With the original venue established in Paris in 1996, Buddha Bar creator Raymond Visan turned his attention to New York and the Middle East – and now Mexico City.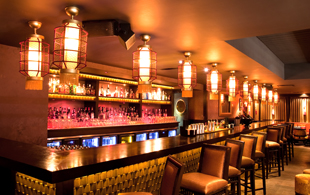 Music is an essential element of Buddha Bar ambience, with DJs are booked nightly, and the brand's record label – George V Records – having released a series of Buddha Bar compilations. At the newest location in Mexico City, international DJs mix eclectic electronic music through a discreet yet powerful system of Meyer Sound self-powered loudspeakers.
'The clarity of the Meyer Sound system is absolutely amazing,' says London-based DJ Naz, a resident of the restaurant four nights a week. 'The bass is strong and tight despite the small size of the speakers.'
To address the full extent of the lounge area, 15 UP-4XP loudspeakers are installed in stereo zones with bass support from five M1D-Sub subwoofers. For the terrace area, where music must compete with street sounds without being intrusive, the design features 24 MM-4XP miniature self-powered loudspeakers supported by nine MM-10 miniature subwoofers. Six MPS-488 units supply DC power and signal distribution, while overall system EQ and drive is handled by a Galileo loudspeaker management system with a Galileo 616 processor. The system was sold and installed by Meyer Sound dealer Audiopro of Mexico City under the direction of owner Francisco Cobos.
Buddha Bar Mexico operations manager Eduardo López-Guerrero certainly regards the Meyer Sound system as an asset: 'The quality of music reproduction is really amazing on the system,' he says. 'It adds to the restaurant's atmosphere and keeps the customers happy.'
Brought to Mexico City by Carlos Monzón and managed by Enrique Segura Nieto, Buddha Bar Mexico launched in February 2011 and is the thirteenth in the chain since the original opened in Paris.
Other venues in the George V Eatertainment group using Meyer Sound systems include Sanctuary in Dubai and Little Buddha Café in Sharm El Sheikh, Egypt, where ten UPA 1P and two 600 HP loudspeakers are installed in the dining area. Another eight UPA 1P, two CQ1 and two 600 HP systems are fitted in the lounge, with two UPA 1Ps in the VIP area here. The entire loudspeaker system is driven by a single Galileo 616 processor.
See also:
Little Buddha makes big noise in Cyprus
More: www.meyersound.com