In a joint venture for London's Royal Court Theatre, Autograph Sales & Installations in conjunction with EM Acoustics were sponsors of the famous venue's latest Theatre Local project, which ran during September and November 2011.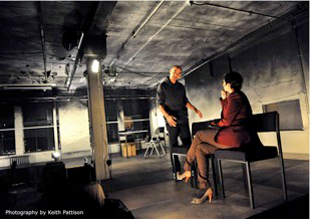 Theatre Local initiative was launched in 2010 when the programme included plays from the Royal Court's sold out Jerwood Theatre Upstairs Season, and opened with Debbie Tucker Green's play Random (which she recently adapted and directed for Channel 4).
The principal aim of the Theatre Local concept is to take Royal Court plays to the heart of a community, attracting audiences who may not have otherwise visited their West End home. This ambition dictates that performance spaces are created within buildings that would not normally have any connection with theatre, and the 2011 venue – The Bussey Building in Peckham, a former cricket bat factory and now a growing cultural hub in the area – is an excellent example of this innovative approach.
'We are delighted to have the opportunity to support theatre at grassroots level via our long-standing relationship with the Royal Court,' says Autograph Sales & Installations' Chris Austin. 'Collaborations such as this are all the more interesting when they take place in unusual spaces and so add an element of technical challenge as well. For this project EM Acoustics has supplied a dozen of its EMS61 loudspeakers while we have provided four MC2 amplifiers to power them, a combination that is working very well for the application.'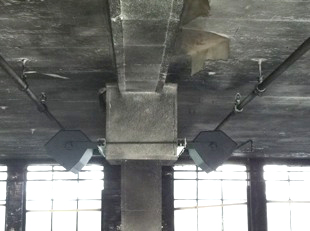 David McSeveney, Head of Sound at the Royal Court adds: 'The challenge of transforming a non-theatre space into a venue able to produce a show to the standards of a Royal Court production has been immense. Thankfully, Autograph Sales & Installations has a continued interest in the work we produce and has been able to provide us with some excellent equipment. The EMS61s are proving to be a very versatile and great sounding speaker which, due to their size and rigging options, we have been able to discreetly distribute around the space. This combined with the output flexibility and power of the MC2 amps has given us a system that is compact and easy to rig yet able to meet the needs of the sound designers'.
As in previous years, tickets will continue to be sold on a 'pay-what-you-like' basis when purchased at the venue or at £10 in advance. With an emphasis on community engagement the Royal Court will also offer a series of workshops, alongside a programme of accessible events.
More: www.royalcourttheatre.com
More: www.autographsales.co.uk