The success of Spanish superstar Alejandro Sanz' eighth album, Paraiso Express, has seen him playing more than 100 shows in 22 countries – including the US, Brazil, Peru, Bolivia, Guatemala, Honduras and Costa Rica.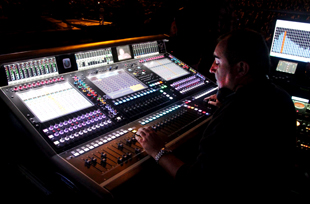 Key to the live sound was FOH engineer Fernando Diaz – a veteran of 30 years on the road who has worked with Sanz for the past decade. Using DiGiCo consoles since the company was formed, he was an early adopter of the SD7, along with monitor engineer Frank Aponte, and called on two DiGiCo SD7s to mix this extensive tour.
'I remember perfectly the first day, three years ago, that Tim Shaxson from DiGiCo came to Madrid to help us with setting up the SD7,' he says. 'My first impression was "Oh that beauty!" Design, ergonomics – it was almost love at first sight.'
Previously, Diaz had done several world tours with the DiGiCo D5, but he saw (and heard) at first-hand how much of a step forward the SD series, powered by Stealth Digital Processing, represented. 'I have not heard warmth and definition of sound as beautiful as that provided by the SD series,' he says. ' Having mixed over 4,000 shows in my career, with the SD7 I could finally say that I no longer missed the sound of those old analogue consoles that we loved so much.'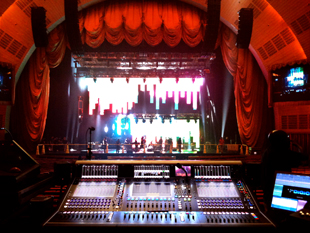 Ten days were spent in production rehearsals with Sanz and his international band of musicians to hone the tour's two-hour set. The entire audio and lighting production was supplied by Fluge Sonido Profesional, with Neotecnica (Spanish distributor for AKG) sponsoring the microphones and wireless systems.
'Alejandro wants his fans to enjoy the best sound and so was very happy to have the SD7s on the tour,' says Diaz. 'There were more than 60 stage channels and 52 UHF frequencies running at the same time, on top of which were processors and effects. But the power of the SD7 means that we could enable more channels to mix the support acts as well, when needed.'
Two of the tour's challenges were the extremes of temperature and humidity in different territories: 'The SD7s never gave the slightest problem,' Diaz reports. 'The show was recorded in Madrid for an HD DVD in 5.1 sound and a live album. I recorded the show on the SD7 and then mixed it in my own studio, also on an SD7. The sound quality is extraordinary and the DVD has been nominated for a 2011 Latin Grammy Award.'
Having played to hundreds of thousands of people, the tour has helped to make Paraiso Express certified triple platinum in Sanz's home country of Spain.
'DiGiCo gave us great support and we were really grateful for their help, as well as Juan Carlos Garcia, David Lopez (FOH and monitor assistants respectively), Fluge general manager Luis Berlanga and his team and that of DiGiCo's Spanish distributor, Meyer Sound España. It couldn't have happened without them,' Diaz concludes.
More: www.digico.org