With offices in Beijing, Shanghai, Guangzhou and Macao, LAB is one of the leading sound equipment rental companies in China, providing audio infrastructure, personnel and technical support for projects ranging from major live productions and sporting occasions to corporate events and press conferences.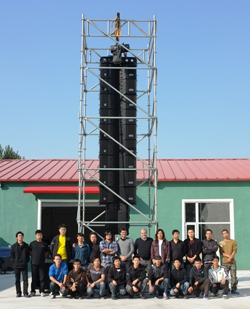 The company's choice of hire inventory reflects its philosophy of providing a professional service to both local and international clients, which has led to a major investment in Outline sound reinforcement products, centered on the new flagship GTO line-source system. The purchase also includes GTO-Low bass extension modules and a number of Mantas compact line-source cabinets, high-power LAB 21 HS subwoofers, T11 lightweight power amplifiers and other accessories.
Two of Outline's training staff, Francesco Ferretti and Davide Lombardi, recently visited LAB in Beijing to introduce the new products to LAB's technicians, and share some practical road-knowledge and experiences with them. The training focused mainly on deployment of the GTO system as its far-field performance is suited to many of the large-scale projects undertaken by the LAB team.
'To forge a new partnership with such a well-respected company in one of the world's fastest-growing markets is a very exciting development for our company,' says Giorgio Biffi, CEO of Outline. 'The quality of LAB's work speaks for itself and I believe that the investment in GTO and Mantas will give the company much greater choice and flexibility when specifying larger projects. We are delighted to welcome LAB to the Outline family'.
'We are very pleased to partner with Outline, whose people and products – particularly the amazing GTO system – will make a major contribution to our company and business,' adds LAB Technical Director, Don Lo.
LAB's projects include Sir Elton John's Shanghai Concert, The Robert Gallup Extreme Magic China tour, the 5th Anniversary of Macau Return Evening and the 2007 Special Olympics Opening Ceremony.
More: www.outline.it
More: www.lab-labour.com