Professional Audio Technology has supplied the OB Group – an independent Australian TV company specialising in multi-camera outside broadcasting – with a Lawo mc² 56 mixing console and HD core for its latest HD truck.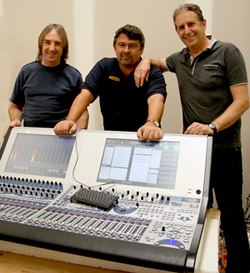 'After perusing various options for a new console, the final decision came down to two companiessays OB Group MD, Colin Rothenberg. 'I decided on Lawo as it best suited our needs and was more flexible. The expansion options are almost limitless and the interfacing to other OB vans is a very simple process. Another important reason for this choice of console is the availability of operators familiar with Lawo.'
The mc² 56 is based on current Lawo HD core technology, and promises reliability, functionality and DSP power for outside broadcast providers such as the OB Group. Concentrating on a 'down to basics' approach, the mc² 56 console conforms with the proven mc² series in terms of quality and performance.
'We are delighted that the OB Group has chosen to go with Lawo's proven technology for its new world-class HD truck,' says Professional Audio Technology MD, Patrick Salloch. 'More and more OB providers and broadcasters are relying on Lawo technology for the mission critical broadcast audio, as could be seen during the Rugby World Cup, the past Soccer World Cups and various Olympic Summer and Winter Games.'
The OB Groups new HD truck will be on the road and ready for action from the beginning of 2012.