Moving to the newly constructed Busan Cinema Center, South Korea's 16th Busan International Film Festival (BIFF) premiered films from Japan, South Korea, Vietnam, China, Thailand and the Philippines, as well as Europe.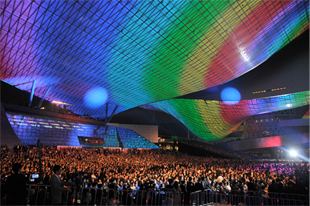 Accompanying the many screenings help over the nine days of the event, its outdoor theatre at the Hall of Film called on a Martin Audio sound system to match the visial spectacle.
The sound system joined the festival in a number of 'firsts' – renaming the event (following the change of the city's name from Pusan), Lee Yong-kwan taking over as festival director, the first year that the Busan Cinema Forum and the first year that the Busan Exhibition and Convention Center (BEXCO) has been used to house various festival programmes.
During the festival's run, a Martin Audio W8LMI (mini line array for small and medium scale applications) and S218 set-up served as the main PA with, H3+ (three-way horn system) and F15 (wide-bandwidth system) were used at the audience rear and sides for surround. For monitoring, LE1500s were installed on main stage.
The opening day saw 5,000 people gather at outside theatre to the the BIFF's opening movie, Han Hyo-joo's tragic romance Only You.
More: www.martin-audio.com
More: www.inter-m.com