Prism Sound/Sadie is to undertake an extensive tour of Africa, highlighting the workflow benefits of the Sadie recording and editing system to broadcasters.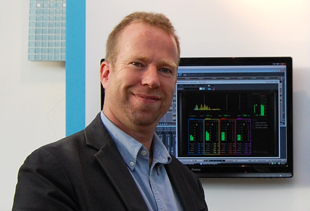 Prism Sound/Sadie is partnering with a number of different organisations including the Commonwealth Broadcasting Association (CBA), the British Council, Sound on Sound magazine and various broadcasting corporations including those in Ghana and South Africa, and Sadie's African distributor SEGMA.
'Africa is becoming highly sophisticated in terms of its broadcast infrastructure – indeed it is rolling out its digital networks faster than many European countries and is also in the enviable position of being able to build new Green facilities from scratch,' says Sadie specialist Pete Nash.
'This tour aims to deliver the message that Sadie is perfect for creative audio production in the broadcast world because it offers a reliable, simple and proven solution to the recording and editing process. We want to impart to African audiences the lessons that have already been learned by major broadcasters such as the BBC, which recently approved Sadie as its craft editor of choice for all radio production work. In terms of broadcasting innovation, Africa is a hugely exciting continent and we are delighted to be part of this development.'
The Creative African Tour began in Nairobi, Kenya, on 7-8 November and moved on to Kigali, Rwanda, on 9 November. From East Africa, the tour moves to South Africa where it will take in Johannesburg on 10-11 November, and Capetown on 14-15 November. In both cases the presentations and workshops will be held at SABC, which is sponsoring the events.
The South African leg of the tour will follow Prism Sound's Mic To Monitor format and will include presentations from Pete Nash, Akim Mogaji and Sound on Sound journalist Hugh Robjohns on subjects such as microphone technique, location recording, mastering and studio acoustics. There will also be panel discussions and practical, hands-on demonstrations of Prism Sound Orpheus, Sadie 6, Sadie LRX, Adams speakers and more.
The final leg of the Prism Sound/Sadie Sepension of Disbelief Tour in Africa takes place from 17-22 November as part of the CBA's Live in Accra event in Accra, Ghana.
Following immediately on from the World Electronic Media Forum, this 5-day event for West Africa will target content creators, those who support and develop the creation of content and those who market, exhibit and distribute the products.
CBA Live in Accra will explore and create fresh approaches to the creation of faction and fiction in the digital age on the theme of 'The Gender Agenda' for national and international markets. The event will be run in partnership with Ghana Broadcasting Corporation (GBC), the CBA's lead member in Ghana, the British Council Ghana (BCG) and Sadie.
'This event will consist of creative workshops, film screening and listening events, master-classes and seminars, and an audience based discussion designed for broadcast produced by Ghana Broadcasting Corporation,' Pete Nash says. 'Its aim is to contribute to broadcast programming and print that raises awareness about development issues in the UK and across the Commonwealth.'
Participants will come from the creative industries and be drawn from television and radio, film and print in particular. They will include writers, creative directors, journalists, editors, audience researchers, media students, NGOs, media managers and strategists. The event will be attended by commissioners and editors, content producers and programme makers from CBA members in Cameroon, Ghana, Nigeria and Sierra Leone, and the BBC.
More: This email address is being protected from spambots. You need JavaScript enabled to view it.