Alongside the visual spectacle of the bonfire night celebration staged at UK's Dunorlan Park, the 14,000-strong audience were able to hear the Rock Choir put a new dBTechnologies DVA T12 through its paces.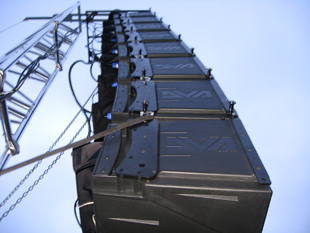 The Dunorlan Park firework event was the first outing for the dBTechnologies DVA T12 system supplied by rental company Phonophobia. 'We have been in this industry for many years now, and once you are established you tend to think the toolbox is full of everything you will ever need,' says Phonophobia's Mark Chant, initially sceptical of what dBTechnologies and its largest line array system could add to his inventory. On 5 November he found out: 'We provided clear, clean audio at high SPLs across a large audience area, flying a total of 16 DVA T12s (eight per hang) and six S30 subs (three per side).'
With night falling early at this time of year, technical time was limited: 'We also had to take into account the requirements of the 200-strong vocal choir located between the main array towers,' Chant says. 'The system performed flawlessly, reproduction was clean and clear from the front all the way to the back and beyond (which was quite a walk), and it was a total joy to mix through - you can quote me on that,' he says.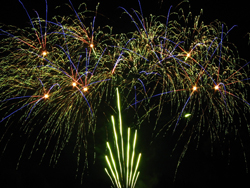 Chant was introduced to dBTechnologies by UK sales manager Rich Soper, who came to the Kent gig to assist. 'This is exactly the right kind of gig for the larger DVA system and it certainly proved itself at the event. We were looking for a system that could be as simple or as complex as the job dictated. DVA T12 has the ability to either set and go, or get right into the DSP and EQ and monitor individual elements in a hang. Truly a luxury. Specifications and indications on paper are one thing, but the dBTechnologies system proved itself this weekend: no matter how pushed for time we were, or how difficult the load in.
'All in all, I can't describe how much I am truly impressed with the system,' he adds. 'The event has made me feel incredibly reassured that we have made the right decision and I have no hesitation at all in recommending dBTechnologies. The capabilities of the system are not just knocking on the doors of some of the big boys, but smashing them in.'
Phonophobia is a well-established hire company supplying sound, lighting, staging, power and event support across the UK. 'I'm looking forward to using our DVA T12s on more events,' Chant closes.
More: www.phonophobia-online.co.uk
More: www.dbtechnologies.com