London's famed Dean St Studios has installed a Solid State Logic Nucleus control surface as part of the renovation of its Studio 3.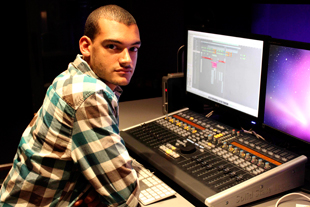 'We pride ourselves on offering our clients the very best,' says House Engineer Austen Jux-Chandler. 'In Studio 1 – our flagship studio – we already run an SSL Duality, so installing Nucleus in Studio 3 seemed like the logical choice for those wishing to take a more "in-the-box" approach to music production. Studio 3 is primarily a postproduction suite that also aims to provide a comfortable environment for recording voiceovers, but Nucleus has also allowed us to promote the space as a full in-the-box mix room. As a result, we've furthered our customer base greatly.'
'Having 16 faders of DAW control not only adds to the professional feel of the studio, it also makes for a much fuller mixing experience. There aren't really any other products in this price range and of this build quality that offer so much hands-on control, so right out of the box Nucleus allows us to offer our clients a much more intuitive environment for their mixes.'
The Soho studio complex has a long and rich history, hosting the likes of David Bowie, T-Rex, Frank Sinatra and The Smiths. Dean St. today is a thriving and expanding hub of creative audio production.
As the facility has clients who travel from overseas, being able to transfer sessions between various studios is of paramount importance, as Austen explains: 'The control that Nucleus allows means that producers and engineers can keep their projects in the digital realm while still being able to physically interact with every aspect of the mix. And if you're using Nucleus in another studio then it's so quick and easy to set up your key commands and the like for our Nucleus here, which means you're up and running with your projects in no time at all.
'And being able to assume total control over effects parameters with physical pots has also encouraged those same engineers and producers to be more experimental. As a result they've become much more creative with their music. It seems that Nucleus restores some of the human qualities that a lot of digitally created music lacks.
'As a studio we have developed a very strong bond with the SSL team over in Oxford. We previously had an AWS 900 in Studio 1 that's since been replaced by Duality, which has been a fantastic piece of kit for us. Its flexibility and functionality perfectly suits our style of working and allows us to run sessions in a variety of ways, meaning we can always live up to our clients' expectations. And now we're expecting Nucleus to transform Studio 3 in a similar way. Ultimately it comes down to two things: we know we can trust SSL products, and we know SSL is a name that our clients can relate to.'
More: www.deanst.com/studios
More: www.solidstatelogic.com