Ho Chi Minh City's Canalis nightclub put on a spectacular opening with saw appearances by top Vietnamese singers, Ho Ngoc Ha, Dam Vinh Hung and Duong Trieu Vu.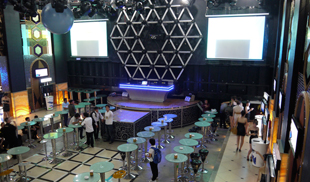 The 400-capacity dance and live music club, run by an entrepreneur with three other venues in Vietnam's largest city, has benefitted from a US$500,000 makeover, and a new JBL loudspeaker system, installed by local distributor Basao Investment, as part of an end-to-end system.
The company was awarded the contract for consultancy and installation following a competitive tender, and Basao's technical support manager, Do Thanh Danh, worked closely with the owner and his technical team to deliver the solution. To provide the desired coverage, Canalis Bar's main stage has been equipped with eight JBL AM7315/64 high power three-way loudspeakers, four JBL AL7115 single 15-inch low-frequency speakers and six JBL ASB6128 subwoofers at both stage left and right, with four JBL SRX715F speakers acting as delays at the rear.
Powering the main stage system are four Crown CTs1200, six MA5000i and six MA 9000i amplifiers. The delays are powered by a further MA 5000i with a dbx DriveRack 260 processor and BSS FDS-336T Minidrive speaker management system, fed from a Soundcraft GB2/16 mixer.
The GB2 takes feeds from a CD DJ, with outboard from a Lexicon MX400 reverb/FX processor, BSS Opal FCS-966 EQ and dbx 1046 Quad Comp/Limiter. Basao Investment has also specified an AKG wireless system in the shape of two channels of WMS 450 Vocal Set D5 True Diversity Wireless System.
The system has surpassed the expectations of the owner: 'He is delighted because out of his four clubs the sound quality in Canalis surpasses everywhere else,' says Do Thanh Danh.
More: www.basaoinvest.com
More: www.jblpro.com
More: www.crownaudio.com
More: www.soundcraft.com