Dubai-based NMK Electronics reports a surge in sales on the back of a year-long programme of training and support initiatives – culminating in the bi-annual Midas Academy event held at the inaugural InfoComm Middle East and Africa (IFMEA) trade show.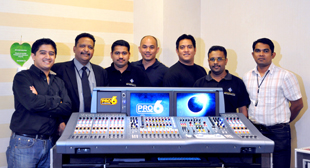 Midas 2011 Distributor of the Year, NMK regularly holds one-to-one training and demo sessions at its headquarters and on location. The Academy event, launched two years ago, also allows pro audio professionals to compare multiple Midas offerings in one space.
'The Middle East is a unique market where there is real demand for the latest technology but a limited number of professionals with the relevant experience,' says NMK Business Development Manager, Chicco Hiranandani. 'One of our core strengths is our team of knowledgeable technical sales people, plus the only Certified Midas Digital Systems Engineer in the Middle East, to ensure our clients get the best out of these phenomenal sound systems.'
This year's academy event saw NMK present the Pro2 and Pro2C systems, the latest additions to the Midas Pro Series of digital systems. NMK also demoed the flagship XL8 desk with its enhanced I/O capacity plus a range of Midas digital snakes and Klark Teknik DN network bridges which offer even greater flexibility of digital systems deployment. Midas VeniceF and VeniceF-16R analogue consoles were also shown.
Having attended the Palme and CabSat every year since their inception, NMK has established a strong presence in the Gulf, with recent sales a Pro6 joining the XL8, Heritage 3000 and Klark Teknik equipment already on site at the Dubai International Convention and Exhibition Centre, in the Dubai World Trade Centre. Pro6s have also been delivered to Qatar's National Theatre in Doha, The Pavillion in Nicosia, Cyprus, and the Raha Theature, Abu Dhabi UAE. In the rental sector, Sound on Stage, which specialises in large concerts by leading Arabic artists, has upgraded its Pro6 to a Pro9 to benefit from the 80-channel count, courtesy of NMK's dedicated service centre.
'We do not see Midas products as merely an item with a margin on top,' says Hiranandani. 'We admire what the name stands for in the market and we share that enthusiasm with our clients. With the Pro2 and Pro2C systems, plus the investments made by Uli Behringer in Midas and Klark Teknik, NMK is fired up to take market share from the competition and most importantly introduce audio professionals to the legendary Midas sound.'
More: www.nmkelectronics.com
More: www.midasconsoles.com