In need of a new distributed arena sound system, the Chicago State University tapped two local companies to assist – Sound of Authority (SOA) came to the job with a longstanding professional relationship with the university, while Johnson AV Engineering had collaborated with SOA in past design projects.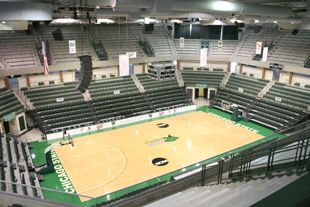 The new system serves the Emil & Patricia A Jones Convocation Center and comprises a Danley Sound Labs loudspeaker system driven by five Lab.gruppen C Series C 68:4 4-channel amplifiers, providing 1,700W/channel (4Ω) from racks in the catwalk above the arena. The Danley units are all 4Ω impedance cabinets, allowing each amplifier channel to drive a single loudspeaker. Packaged in a compact 2U-high chassis, the C 68:4 claims a new standard for high power in an installation-dedicated amplifier.
Four pairs of Danley SH 69 full-range loudspeakers have been flown on the long sides of the arena to cover each zone (one handling the upper seating region and the other assigned the lower region), while the corners are covered by single Danley SH 60 full-range loudspeakers. Each end is covered by a cluster of two SH-60s over a single SH-69 for upper and lower regions respectively.
'I really like the C Series amplifiers,' says Aaron Johnson, President of Johnson AV Engineering. 'I've been using Lab.gruppen amplifiers for years and have never had a serious problem. They are extremely efficient and durable. The Danley/Lab.gruppen system works exactly how we wanted. The University and the fans are extremely pleased with the end result.'
More: http://labgruppen.com
More: www.danleysoundlabs.com