HHB and Soho-based subsidiary Scrub held the UK debut of Avid's Pro Tools|HDX and Pro Tools 10 in London's Soho Square recently.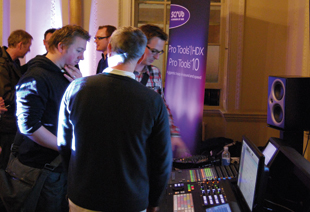 The event was attended by a wide range of customers, which included broadcast, recording and postproduction professionals. Three sessions were held by Avid Audio Application Specialist Simon Sherbourne, who demonstrated new features that provide scalable solutions, deliver better and faster performance and facilitate easier collaboration. Eucon Application Specialist Richard Morson was also helped walk visitors through the innovative features of the System 5-MC control surface. The event went late into the night as visitors stayed on to discuss the benefits of integrating the new Avid products with their systems.
'The launch of Pro Tools 10 and Pro Tools|HDX sees a major step forward for audio post and we were determined to ensure our customers had the opportunity to see it first,' says Scrub Sales Manager, Tina Wallace. 'Scrub is on the doorstep of so many of the UK's top postproduction facilities, which not only helps us provide service and support but makes it possible for us to hold local, convenient events for a community that has very little down time. We saw 120 Pro Tools users throughout the day, both established long-term investors and a distinct trend of new converts. These were all very exciting signs for the future of Pro Tools.'
Pro Tools HD 10 features the new AAX (Avid Audio eXtension) plug-in format, which has been optimised to enable better workflow and sound parity when sharing sessions between DSP-accelerated and native-based Pro Tools systems. Sales & Marketing Manager Nathan Eames of plug-in developer Sonnox was on hand to discuss how the company has already established compatibility with the AAX format.
'HHB's launch event was the perfect opportunity for UK customers to see first-hand what we mean when we say that that Pro Tools 10 and Pro Tools|HDX represent a gigantic leap in sound and speed,' says Avid Pro Channels Manager, EMEA North, Ben Nemes. 'The reactions we received throughout the day confirm the fact that these new products are exactly what our customers are looking for.'
More: www.hhb.co.uk