Deloitte recently returned to the Royal Opera House with its annual Ignite Festival, this time curated by internationally renowned director Mike Figgis. The contemporary arts festival takes over every corner of the Royal Opera House and invites people to listen to opinions, watch performances and films, and view the current trends in fashion and art. Just Tell the Truth was the theme of this year's event.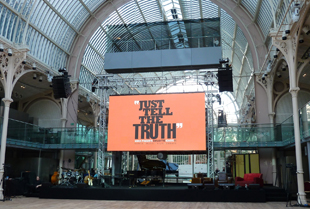 The Paul Hamlyn Hall served as the hub of the festival with a live stage for an eclectic mix of improvisational bands, speakers and dancers throughout the three fetival days. For the second year running, Paul Nicholson of Midas ProSound and Red Square Audio was in charge of the audio for the festival and he chose Roland products to for both the Paul Hamlyn hall and the Linbury Theatre. The Linbury Theatre itself is a modern theatre space within the heart of the Royal Opera House
Specifying the M-480 48-channel mixing console for the stage in the hall and the M-400 console for the stage in the theatre, both Roland digital consoles were connected to their respective FOH consoles using S-Madi. In the main hall, Andy Reeves used the M-480 for monitors and Matt Trigg multitracked the performance using the Sonar REAC Recording System, which when used in conjunction with the V-Mixing System provides a comprehensive hardware and software solution to live recording, mixing, mastering and delivery.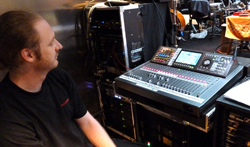 The resident engineers at the Royal Opera House also asked Nicholson to spot record where required, for which he turned to Roland's R-05 hand-held recorder – four R-05 in total (one at FOH and one for monitors in each of the two halls). 'The Royal Opera House engineers were so impressed with the hand-held recorders – they purchased the four units there and then,' he reports.
The R-05 has recently been upgraded to the R-26, which offers six channels of audio recording, as well onboard editing, a touchpanel display and a USB audio interface for PC.
More: www.rolandsg.co.uk
More: www.redsquareaudio.co.uk