When the NFL held an American football game in London for the fifth consecutive year, Britannia Row Productions provided live audio for the event to the 86,000 crowd inside Wembley Stadium. And to distribute the sound throughout the venue, Brit row turned to Audinate's Dante technology...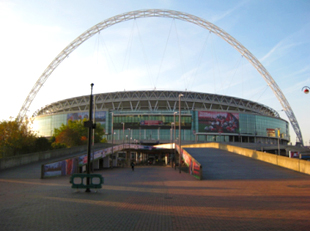 An event of this kind calls on large amounts of media – from the pre-game show to video feeds, replays, referee microphones, PA announcements and live satellite linkups to other games in the league. The home stadiums of the NFL teams are designed with this in mind, using fixed installations that are designed to cope with the complexities of the game.
Wembley Stadium, however, was designed as a soccer stadium and rather different requirements. This means that all of the additional infrastructure required to deliver a regular season game has to be built on a temporary basis, and incorporated with the fixed installation. 'Signal distribution around the field was achieved using Dante linked Lake LM 26 and LM 44 Processors,' System Engineer Sergiy Zhytnikov explains. 'A total of 14 of these units were used for the game. The use of fiber-optic cabling to deliver both Dante audio and control remotely gave real benefit instead of using 2km of analogue cabling which, due to necessity was placed in cabling conduits at field level, along with every other kind of electrical cable imaginable.'
Dante also solved the problem of signal degradation over long distances. 'Using Dante on the Lake platform is reliable, presents an easier control system is faster to connect and remove, and most importantly, delivers higher quality audio,' Zhytnikov adds.
These sentiments were echoed by veteran FOH Engineer Roger Lindsay who commented: 'This was the cleanest audio distribution system we've ever used for an NFL game weekend'. He also received positive feedback from the visiting NFL production team on the smooth running of the event and the continual improvements in delivery of this complex task.
More: www.audinate.com
More: www.lakeprocessing.com
More: www.britannia row.com