Martin Audio's Multi-cellular Loudspeaker Array system has won a Parnelli Indispensable Technology 'IT' Award.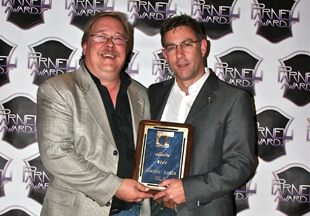 Hosted by comic legends Flo and Eddie (Mark Volman and Howard Kaylan), the 11th Annual Parnelli Awards Dinner honoured Lifetime Achievement Award Winner Ed Wannebo, Audio Innovator Kenton Forsyth and Parnelli Visionary Jim Fackert, along with 24 individuals, companies and products that made significant contributions to the growth and evolution of the live production industry in 2011.
The award was presented at a well-attended dinner in the Peabody Orlando, which took place during the recent LDI 2011 show, and marked Martin Audio's achievement in in the Audio Category. Martin Audio MD Anthony Taylor and Director of US Operations Rob Hofkamp were on hand to accept the 'IT' Award for Martin Audio.
'It was a real honour to be recognised by our peers in the industry and particularly with such a prestigious award,' said Taylor. 'We are especially proud of the MLA system with its game changing cellular approach and powerful acoustic delivery in what appears to be a modest package. This award acknowledges the efforts of our engineering team for their commitment, and bold and innovative approach to solving the audio 'Holy Grail'.'
Hofkamp added, 'In this, our 40th year in business, Martin Audio's passion to lead by pushing the engineering boundaries for innovation and performance remains unchanged. The Parnelli is our third technical award for MLA to date and I am thrilled to see the buzz for this incredible system spreading throughout the US market.'
More: www.martin-audio.com