A new cultural centre in the Lapland capital of Rovaniemi, the Korundi House of Culture packages concert facilities with a bold architectural statement based on the city's history.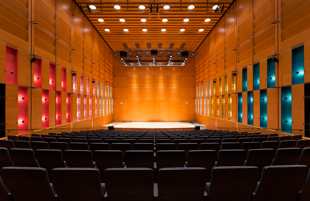 Using from the former 1930s redbrick Rovaniemi mail depot, the building has been expanded with a box extension designed in weathered, patinated steel. The renovated building is occupied by the Rovaniemi Art Museum, while the extension provides a multipurpose 340-seat concert auditorium for the Lapland Chamber Orchestra and the varied programme of events and concerts that the venue will host. In addition to the museum and concert hall, the building provides for the storage of artworks, meetings, offices and workrooms as well as a café-restaurant and music shop for visitors.
The external appearance of the facility contrasts with functionalist architecture of the shopping malls of central Rovaniemi. architect Juhani Pallasmaa says that 'it speaks in a tangible and silent way of bygone days'.
Inside the auditorium, painter and graphic artist Prof. Jorma Hautala turned the warm highlights of the walls into 'colour acoustics' that lend the venue a rich atmosphere. The auditorium's acoustics were designed by Danish professor Henrik Møller in cooperation with Pallasmaa. All the materials, geometric shapes, dimensions and reflecting surfaces were carefully chosen, resulting in a naturally warm and translucently clear acoustic design. The acoustics achieve a meticulous balance of direct sound, short reflections, reverberation times, and high and low frequencies.
Design and installation of Korundi's auditorium sound system was handled by Vantaa-based Starlike Oy. 'With the acoustics so carefully designed into the auditorium, it was important to have a sound system that was extremely natural and well balanced and with the flexibility to sound equally good at all power levels,' says Sami Rautio of Starlike. 'Accurate dispersion and coverage were also critical so that the amplified sound didn't alter the direct and reflected balance. To achieve such high standards we chose Community's premium iBox series loudspeakers.'
Left and right clusters each consist of two Community iHP1566, while the central cluster uses two iHP1266. Two 18-inch i118S subwoofers extend the low-frequency power of the system, four iHP1266 loudspeakers provide movable fills and point effects, and 12 Community I/05 loudspeakers are used for surround sound. Power for all of the loudspeakers is delivered by Yamaha P-series amplifiers. The Yamaha DME24N was chosen for DSP and the mixer is a Yamaha LS9-16.
'For such a critical client we had to provide an outstanding system and I'm very pleased with the results we achieved,' Rautio says.
More: www.communitypro.com
More: www.starlike.fi