Radial Engineering paid a visit to the Middle East recently, with company President Peter Janis addressing audiences in Dubai, Beirut and Cairo.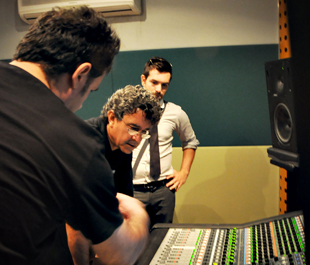 Discussing Radial's latest line of products, including the Primacoustic acoustic treatment division, he believes that there is no substitute for the personal touch: 'Even though information is so easily exchanged electronically around the world, as a company that sells globally it is important for us to meet as many of our customers as we can,' he says. 'There is nothing that beats the in-person experience to not only share and demo products but to lend our vision and passion as a company. Music might be the universal language but it's important to bridge different cultural and business realities.'
Lessdb of Lebanon organised a seminar in Beirut where more than 50 people attended Janis' seminar on Radial DI systems. Recording engineers, live sound engineers, audio design consultants and rental companies came from Jordan, Kuwait and Lebanon to take in the presentation at the Woodland restaurant and reception venue, considered one of the finest locations for business events in Lebanon.
'The seminar was a blast,' says Lessdb MD, Tony Daoud. 'In addition to the seminar, several meetings at recording studios and television stations were arranged where people were astonished by Radial products. It was a wonderful experience for everyone who attended and we have since been sending out various Radial products to our customers on evaluation.'
In Egypt, Janis conducted training in the audio department of exclusive distributor Technology KAR Inc. In attendance were the sales team, senior and junior assistants, project managers and the maintenance engineers. According to Sales Manager Hesham Badreldeen the visit did much more than bring technical information to the table: 'Peter changed the whole Radial products vision for us. The Egyptian team now has the same team spirit you have in Canada.'
Organised by Dubai-based Melody House, students at the SAE Institute also received a presentation from Janis. Integrators and consultants also took in a presentation at the offices of Melody House. Dino Drimakis, Business Development Manager with Melody House valued the extensive technical information shared with both groups: 'Peter gave insight as to why there are so many interface boxes required in professional audio and discussed the high-quality internal transformers that make the DI boxes. We have just started working with Radial and have already got many inquiries for the products.'
More: www.lessdb.com
More: www.teckar.net
More: www.melodyhouse.ae
More: www.radialeng.com