Classic Audio Designs' mission to re-establish reference loudspeaker standards continues with the expansion of the Australian Grover Notting operation into Asia. A new Hong Kong base will address Asia, the Middle East and Pacific markets (excluding Australasia) following an agreement with Hong Kong-based industry veteran Rob Ascough of Positive Audio, who will spearhead the establishment and management of Grover Notting in these territories. 'Worldwide interest in the Grover Notting audio monitoring product is gathering momentum, particularly in Asia, where authentic, premium performance, well engineered products are highly valued and sought after,' says Frank Hinton.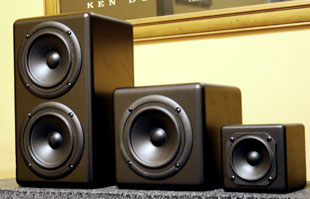 The Grover Notting portfolio is set to grow with the introduction of a number of new ranges. Soon to join the current CR-1 and CR-2 in the Cross Reference Audio Monitor Range are the CR-11 and CR-11EB. Both have been successfully tested, and production is planned to commence in September. The Principal Audio Monitor Range is in the final stages of development, with acoustic design work completed and all proposed models prototyped. Some models have undergone rigorous field-testing, with more than 100 industry professionals and students. Resulting from the trials and feedback, the range will be presented in three series – the full-bandwidth Universal Series, the extended-bandwidth Mastering Series and the Low Frequency Augmentation Series. Work is also underway on two ranges of power amplifiers. The first will be available as a standalone option to drive the Cross Reference Audio Monitor Range. Design is in the final stage with prototypes currently in test. The second is a range of critical listening power amplifiers for the Principal Audio Monitor Range, which will also be available as a standalone product. Preliminary specifications have been established for this premium performance product; design work is in progress with the first prototypes expected late July/early August.
'The Grover Notting line is quite refreshing as it offers several "points of difference", such as being made in Australia, an engineering focus driven by the needs of audio industry practitioners, and a de-corporatized business environment that results in products being designed to fit specific user needs rather than being built to meet a consumer price point and drive market share.' Grover Notting is designed and manufactured in Melbourne, Australia, by Classic Audio Designs Pty Ltd, a sister company to ATT Audio Controls.