AFMG (Ahnert Feistel Media Group) has made changes to its distribution and support network.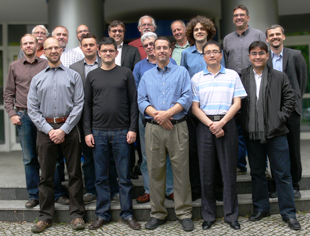 Effective immediately, the company will sell its software, including Ease, EaseRa and SysTune, direct to customers in the EMEA region and India. 'Many of these markets are growing rapidly in both size and technical sophistication,' ssaysaid AFMG's Stefan Feistel. 'With direct distribution, we can offer end-users better access to both software and technical support.'
AFMG already distributes its other software products directly worldwide.
AFMG announced these changes to international partners who had gathered in Berlin for its bi-annual Partner Meeting. The occasion also marked AFMG's 30th anniversary. 'When we started to simulate room acoustics in 1981, we could not foresee what an amazing success story Ease would become,' said Professor Wolfgang Ahnert. 'Over the past three decades, the power of digital technology has surpassed all our expectations, and so has industry acceptance of Ease and of our other products.'
To establish a better footing, local support and training AFMG will focus its work and attention on regional companies and professionals. Partners will 'be connected more closely to the company and work hand-in-hand with AFMG'. Sales can be conducted through AFMG´s international Online Store or through a local partner, just as the customer desires. 'Our friends at Renkus-Heinz have done a great job with the international distribution of AFMG software for more than two decades,' says Stefan Feistel. 'Now that AFMG is growing and the community of our customers expands, it is time to take more responsibility ourselves. We will be strengthening our international connections in the coming months and building new ones. Renkus-Heinz will remain one of our major partners.'
For EMEA and India, AFMG will offer sales and support for all products directly from its Berlin headquarters.
EMEA:
This email address is being protected from spambots. You need JavaScript enabled to view it.
This email address is being protected from spambots. You need JavaScript enabled to view it.
The Americas and Pacific Rim:
This email address is being protected from spambots. You need JavaScript enabled to view it.
This email address is being protected from spambots. You need JavaScript enabled to view it.
US:
This email address is being protected from spambots. You need JavaScript enabled to view it.
This email address is being protected from spambots. You need JavaScript enabled to view it.
More: http://afmg.eu