Recently appointed as Denmark distributor for Midas and Klark Teknik products in Denmark, Signal Audio has placed a large order for Pro2 and Pro2C live audio systems – its first.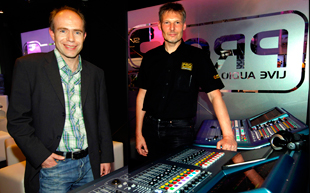 'The very competitive price of Pro2 and Pro2C has created a lot of interest in itself, but the really interesting thing is that customers are now looking at Midas systems in a wider perspective,' says Signal Audio Sales Manager for Pro Audio, Morten Uldbaek. 'Instead of focusing on a console with a snake and a stagebox, there are now many networking opportunities, such as the ability to move show files between the different consoles and audio distribution in general.'
The first two confirmed Danish clients for the Pro2/Pro2Cs are Copenhagen rental company Prime, which placed its Pro2C order seconds after seeing a demonstration at Plasa, and Sound & Light, which ordered a Pro2 and a Pro2C. Further Pro2s and Pro2Cs have gone to Nordic Rentals, Vejle Musik Teater and Soundcrew.
'We have a long history of using Midas consoles from the XL and Heritage series,' says Nordic Rentals' Technical Director, Jens Elsborg. 'Today, the majority of our work is complex and challenging. The Midas network allows us, on a scene-by-scene basis, to patch inputs and outputs from stage boxes in different locations. The ability to patch directly from individual consoles or via laptop gives us the degree of control required to solve complex tasks.
'Another important feature for us is the correlation between all the Midas digital consoles. The ability to move show files from a Pro2C to an XL8 or vice versa, and run your show or build on them is unique to Midas. We can easily upgrade a console if a show requires this, just as we can do the programming on the XL8 and subsequently run our show from a Pro2C, freeing up the XL8 for its next task and making the console very cost effective. Support and learning is made much easier by the clear correlation between the different consoles. For us, Midas digital is more than consoles, snakes and boxes. It is a network system, which makes it capable of solving any given task and in the best possible sound quality.'
'Our company has had its eyes on Midas digital for some time now, and the release of the Pro2/Pro2C made it clear that now is the time to add Midas digital to our existing inventory,' says Jess Otzen, owner of Sound & Light, another long-term Midas analogue user. 'To be able to buy a console with the sound quality of the XL8 and a feature set similar to the rest of the Pro series at low cost was a no brainer to us. And the addition of extra features like collapsed fader flip and the MCA function is fantastic.
'This purchase is a first step in building a Midas digital network, which means adding larger Pro series consoles and additional split and stage boxes. Being able to supply a complete Midas network will definitely strengthen our position in the rental market. We are still running a couple of XL4s in top condition, which means that the Midas fleet continues to grow.'
Vejle Musik Teater's Pro2C joins its Midas Pro6. 'Expansion with the Pro2C gives us new opportunities for monitoring, broadcasting and running shows and events,' says the venue's sound engineer Peter Loevenhart Soerensen. 'This is simple and flexible because of Midas' network system. For the smaller shows and events the Pro2C is perfect due to its size.'
More: www.signalaudio.dk
More: www.midasconsoles.com