With six Danley Sound Labs TH-115 tapped horn subwoofers ready to beef up the low end of its PA system, Willow Creek Church needed to replace its amplifiers with something more capable.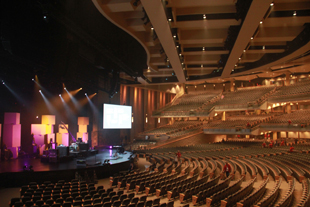 Until recently, the subwoofers were driven by power amplifiers retained from a previous system but these were increasingly plagued failure, to the point where Matt Satorius, audio system engineer at Willow Creek, began researching an upgrade.
'Specifically, we were looking for amplifiers offering increased power efficiency, digital signal processing, and the ability to be controlled and managed over a network,' he explains. The thorough evaluation process eventually led him and the church production team to the Powersoft K Series…
The remainder of the system was installed seven years ago, making Willow Creek one of the largest churches in the US in terms of both membership and facilities, specifically, the sound reinforcement system serving its 7,200-capacity main sanctuary.
'The efficiency of the Powersoft amplifiers is the ticket,' Satorius says. 'We were able to replace the existing six amplifiers with just two Powersoft K3 amplifiers. The original setup required three 20A circuits per side, but we've been able to cut that by two-thirds with these new amplifiers. That's efficient.'
A single K3 amplifier per side, specified as being capable of generating more than 5kW watts is all that is required to drive its respective set of three subwoofers. In addition, both K3 amplifiers are fitted with the optional KDSP board that provides a suite of digital signal processing, further enhanced with the inclusion of the optional KAESOP Ethernet/AES3 interface. They team up to offer sound shaping and system management capabilities, remotely controllable via Powersoft Armonía Pro Audio Suite software.
A proprietary algorithm onboard each unit provides the control necessary for subwoofer use.
'The amps are rackmounted under the stage with the subwoofers,' Satorius says. 'Being able to remotely monitor and control them is extremely nice. As an added bonus the install and setup was a breeze – we had them swapped out and working in an afternoon.'
More: www.powersoft-audio.com