Having worked with some of the biggest rock and pop artists, British producer Steve Levine is currently in demand for his work on various UK radio series.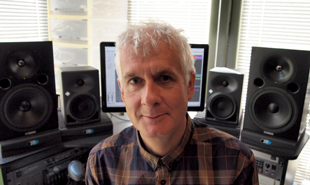 He does much of his work at home and has found monitoring one of his more intractible problems. 'When you are mixing at home, you have to get the balance right between having something that gives you a true sense of the low-end and speakers being gigantic,' he says.
A recent episode of The Record Producers featured Pink Floyd: 'It was probably one of the hardest shows I've ever done in terms of mixing and really listening to the fine detail,' he says.
'With the radio shows – especially The Record Producers for BBC Radio 2 – I do a lot of editing on computer. For that I had been searching for several years for a small monitor that has the right sound, but which isn't fatiguing on the ears, as many monitors of that kind of size are.'
Having almost exhausted his options, he heard about Neumann's KH120 – it proved to be a 'Eureka!' moment: 'I first set them up in the studio I put a CD through them and the clarity was breathtaking – I could hear the layers of things, everything, it was just an amazing revelation,' he says. 'It was music I'd known for a long time and, all of a sudden, something I knew so well became incredibly transparent and clear.
'My immediate reaction was 'Oh, finally…' Monitors that sound like I want them to sound'. From the start I was very impressed.'
The Record Producers gave the new monitors no problems: 'The KH120s made it a pleasurable experience and we had an unbelievable reaction response from the Radio 6 Music audience in particular, with many of them commenting on how good it sounded,' he reports.
More: www.sennheiser.co.uk