'The SunDome was built in the 1990s, and at the time it was fairly typical to install centre-cluster loudspeaker systems in domed stadiums,' says Leo Lee. 'Most centre-cluster technology isn't able to meet the current audio demands for a venue like the SunDome.'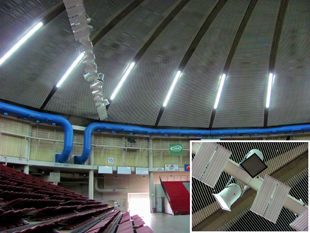 Located in Central Washington's State Fair Park, the 6,195-seat Yakima Valley SunDome hosts touring concerts, basketball, wrestling and volleyball tournaments, truck-pulls, trade shows and other regional events. To achieve the desited volume levels, the cluster system was throwing sound too far, causing major reverberation problems within its largely concrete environment.
As owner and General Manager of Sousley Sound & Communications (SS&C), Lee was the man charged with bringing the stadium's sound system up to date…
SS&C was contracted by the city of Yakima to design and install a new distributed audio system capable of providing the zoned coverage for the venue's various events, without compromising speech intelligibility or musicality. The system the company has installed includes 24 Community R-Series loudspeakers and six iHP Series dual 15-inch subwoofers – the weather-resistant R-series being a popular choice for outdoor venues, and frequently selected by designers for indoor arenas and other reverberant spaces because of its sound projection, pattern control, exceptional clarity and high-quality music reproduction.
The loudspeakers are powered by 13 Ashly Audio amplifiers, with matrix routing and configuration presets provided by Ashly Protea DSPs.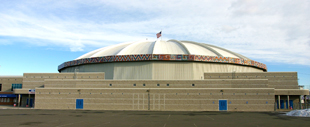 In addition, the system is the first installation to use Community's new dSPEC226 loudspeaker processor – an Ethernet-controlled processor that provides the standard functions expected of a high-quality DSP, while implementing a number of unique features to speed up the process of system configuration, multi-level limiter setting, and system commissioning. Among these is the first commercial-audio application of RealSoundLab's Coneq technology. Effectively a high-resolution tuning tool, as implemented in dSPEC, Coneq processing provides loudspeaker presets that optimise frequency response, while making each speaker's soundfield more consistent. In practice, the dSPEC features enabled the various speaker types within a difficult venue to be quickly optimised, balanced and commissioned.
Lee reports that the new Community system works exactly as designed: 'We've received many accolades about the new audio system,' he says. 'You can hear every word clearly no matter where you sit in the arena. The sound distribution is exceptionally even. We're very pleased, and more importantly, the SunDome management is very pleased.'
More: www.communitypro.com