With a run of shows, some including a full orchestra, UK musical collective Archive reports successful use of a variety of Sennheiser and Neumann analogue and digital microphones.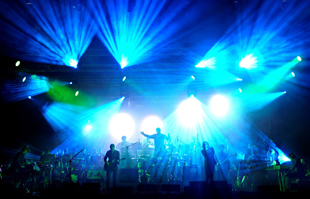 Front-of-house engineer Spike Jones' use of Sennheiser mics goes back to the mid-1980s, when he came across them at London's Nomis rehearsal studios: 'Since the early 1990s I have used Sennheiser on tour, though it's not always possible when you are using house systems and venues do not supply them,' he says.
For some time, this was the situation with Archive. 'We were using any mics that the venues could supply and it was never satisfactory,' he says. 'I know what the band's instruments and vocals should sound like, but there was always uncertainty whether the mics we found at the venues would reproduce them to a good enough standard.'
As Archive's audiences grew, Jones knew that he had to resolve the problem quickly. He approached Sennheiser directly, with the aim of getting a full set of the mics of his choice. The company agreed to help... 'Now we have consistency of the sound from source,' he says. 'You cannot underestimate the importance of that to a sound engineer.'
For some time he has used e901s, e902s, e905s, e914s and e604s on the drum kit, an e902 on the bass guitar, e606s and e906s on guitars and an e965, e935 and e945 on the band's vocals.
'I use e604s on toms because they are small, they don't get in the way and can handle the low-end frequencies,' he explains. 'The e606 and e906 are perfect for guitar and I think the e935 is the best-sounding rock vocal microphone available. It's ideal for Dave Pen's vocals. Pollard Berrier usually uses an e965, because its softer character allows me to get his vocals clearly over the loud band behind him.'
Recently, he has also used Neumann KMD series digital mics: 'I have started using the KM 185D and KM 185D on drums, the KM 184D and KM 185D on guitars and bass, and the KMS 104D on vocals,' he says. 'The microphone software on the Innovason desk I'm using adds a new dimension to live sound engineering. The fact that you can change parameters of the digital microphone on the desk now means that you can change the sound to suit your needs. Previously, the only other option was to change the equalisation.'
Jones is also happy with the choice of a d&b J-Series system for the main PA. 'As long as you follow the guidelines and run the system digitally from source to speakers, you will experience a new level in sound quality,' he says. 'But you have to realise that they are very sensitive and live sounding mics, so positioning them is very important – and if they're positioned correctly, they sound fantastic.'
In monitor world, Kevin Charnley agrees that there are advantages to using digital microphones: 'I've always enjoyed the opportunity to use the KM 84, KM 184 and now the digital version,' he says. 'These bring extended frequency response with considerably less noise (no noise to my ear). Neumann's beautifully realistic, natural sound is a total tonal advantage to in-ear monitor mixes and front-of-house applications.'
He is using Sennheiser ew300 G2 wireless monitor systems for the entire band. 'I've used them for years with many other acts and they have always performed perfectly,' he says. 'As with all Sennheiser products they are totally reliable on the road.
'Recently I was using the new G3 system with another client and found it to be even better, with some interesting new features – the engineer mode on the belt packs being particularly useful. Archive also uses two ew500 G3 wireless microphones which have performed impeccably since they were introduced.' Even with such reliability, touring engineers need the reassurance that there is a proactive company behind them and Sennheiser ensures that support is always at hand.
More: www.sennheiser.com