As 15,926 attendees came to visit 310 exhibitors and a busy programme of papers, events and talks at NY's Jacob Javits Center for the 131st AES Convention, the organisers claimed 'flawless fall weather and rampant enthusiasm coalesced in a textbook example of planning and execution'.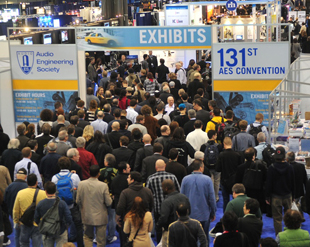 'Soon after the curtains fell on last year's event, our 2011 Committee began the first of more than a dozen intensive planning meetings,' says Convention Chair, Jim Anderson. 'Each Chair brought an extraordinary degree of commitment, enthusiasm and professionalism to the table. The results of their labours registered rave reviews and high praise from attendees and exhibitors alike.'
The show clearly hit the mark for Genelec Marketing Director, Will Eggleston: 'Right up until the last five minutes of the show, the intensity of the good, qualified traffic was far beyond our expectations,' he says. 'This year's AES Convention had the feeling and pace of the glory days.'
'Executive Director Roger Furness remained an indomitable source of organisational and motivational direction throughout the year-long process,' Anderson adds. 'His invaluable experience in coordinating these enormously complex programmes; his ability to deal with disparate issues ranging from logistics, budgets, venue wrinkles, last-minute programme changes and the myriad details, enormous and miniscule which need to interface, provided the Committee with a reassuring comfort level of professionalism. At the end of the day, when questions arose, Roger Furness was the man we turned to for decisions.'
Last year, the 129th San Francisco convention reported 14,000 attendees and more than 300 exhibitors.
The 132nd European Audio Engineering Convention will be held in Hungary's Budapest Congress & World Trade Center, 26-29 April 2012. The 133rd AES Convention is scheduled for 26-29 October at San Francisco's Moscone Center. A comprehensive listing of international shows and events can be foun in Fast-and-Wide's Show Dates.
More: www.aes.org