Inside a former power station in the Brisbane suburb of New Farm, the Powerhouse Theatre lives up to its name – both in its productions and technical facilities. It recently acquired two digital consoles for use across its performance spaces – an SD8-24 and SD9 were installed along with a DiGi-Rack and a SD8 Madi-Rack.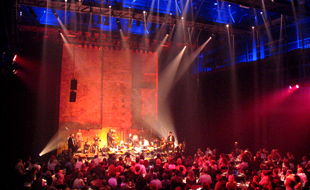 Decommissioned in 1971, the old power station served as an impromptu location for filmmakers and graffiti artists, as well as a shelter for the homeless. It remained derelict until 1989, when the Brisbane council regained the premises and restored it.
The theatre is now a major creative hub hosting theatre productions, music, comedy, film, visual arts as well as a number of festivals each year. It now houses performing arts venue (opened in 2000) and underwent a further stage of development in 2007 increasing audience capacities, adding a restaurant and bar as well as function and conference spaces.
The venue is comprised of a flexible 700+ seat theatre (Powerhouse Theatre), a more intimate 200-seat apron stage theatre (Visy Theatre), an 800-viewer open platform (Turbine Platform), two restaurants, two terraces, a conference room, a number of rehearsal rooms and several offices.
To meet its varied needs, Head of Sound Tony Childs required a set-up that was reliable and flexible. The highest-quality sound was also a priority: 'We really wanted something that sounded exceptional,' he says. 'We assessed several options but DiGiCo was the clear winner. There's no question the console sounds excellent. It's very clean and there's so much headroom.'
Ease-of-use has also impressed Childs, finding that the same user interface across all of the SD Series consoles has made training new operators a very simple affair: 'I love the fact that if you've learnt how to use one SD console, you can use any of them,' he confirms. 'Guys who had learned on an SD8 transition to an SD9 instantly. Keeping console software the same is great for workflow – it just makes sense.
'I'm starting to get into the effects too,' he continues. 'I find that controlling dynamics are a breeze with the compressors and its all inside the console. I love the way snapshots and complete shows can be saved in the console. It has cut our setup time dramatically; it's so fast and simple.'
Childs has also noticed that his team is now extremely eager to work given they will have access to DiGiCo which has made his ability to roster operators a much simpler affair: 'Engineers have been offering to come in to work because they love using the consoles. They know that a lot of the big acts use DiGiCo and they're excited to work. It's helped us solve staffing issues.'
With both consoles operating day in day out, feedback has been extremely positive on all fronts. 'I've had bands and managers approach me several times now commenting on how good the sound has been; it's great to have that kind of feedback.'
More: www.grouptechnologies.com.au
More: www.digico.biz