Home to the Lahti Symphony Orchestra, the Main Hall of Finland's Sibelius Hall Congress and Concert Centre boasts an acoustic designed by New York-based Artec Consultants. Extending its flexibility, it has added a Meyer Sound M'elodie line array system to serve presentations that require amplification.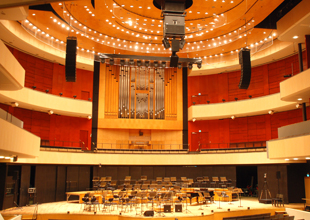 Regarded by the Sydney Morning Herald and Gramophone magazine amongst the world's best concert venues, the 1,229-capacity Main Hall hosts the orchestra and a year-round program of light music, standup comedy and operettas.
Featuring flexible acoustical designs such as corrugated walls to scatter reflected sounds and moving canopy above the stage, the venue chose its sound system carefully: 'For the sound system upgrade at the Main Hall, we decided early on that it had to provide high-quality sound, with a good reputation among technicians and artists,' says Operations Manager, Jukka Kaunisto. 'We listened to a lot of systems from different manufacturers. Finally, after hearing a Meyer Sound line array system during the Bo Kaspers Orkester concert at the hall, our sound engineers and I decided to go with Meyer Sound.'
The system comprises flown LR arrays of nine M'elodie line array loudspeakers and two 500-HP subwoofers. The additional centre array combines two 700-HP subwoofers above two UPQ-1P loudspeakers and two UPJ-1P VariO loudspeakers on motorised chain hoists that can be moved up into the ceiling. Eight MM-4 miniature loudspeakers serve as stage lip fill, and two UPJ-1P loudspeakers are used for stage fill and out fill. A loudspeaker management system, consisting of Meyer Sound Galileo 616 and Galileo 408 processors, is used for delay and equalisation. System commission and tuning was charged to Studiotec, while design specifics were handled by Jan Holm of Helsinki-based Teakon Theatre consultants.
Kaunisto is enthusiastic about the reaction to the new Meyer Sound system: 'In the past few months, we have had more than 30 events, during which many artists and sound engineers have praised the system.'
Situated on the Vesijärvi waterfront in Finland, the Sibelius Hall was named after Finnish composer Jean Sibelius. The complex was designed by Hannu Tikka and Kimmo Lintula of Artto Palo Rossi Tikka Architects.
More: www.meyersound.com