When Alejandro Sánchez-Samper travelled to Kathmandu to record an album of traditional and contemporary Nepalese music, he chose a Sound Devices 788T digital audio recorder and its USBPre 2 to do the job.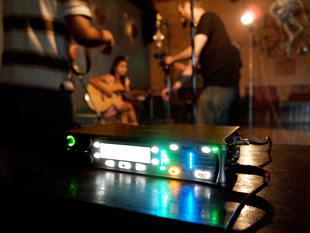 Assistant professor and assistant director of commercial music at Florida Atlantic University (FAU), Sánchez-Samper used the 788T recorder to capture live performances for the album Nepali Ho, while using the USBPre 2 as a standalone preamp.
Thanks in part to a research travel grant from FAU's Asian Studies certificate programme and a successful internet fundraising campaign through the Kickstarter funding platform, Sánchez-Samper was able to secure enough funds to produce a full-length album intended to cover a variety of musical styles such as rock, pop, street rap, jazz, traditional Hindustani, Nepalese folk and fusion. Two of Nepal's most respected groups, Kutumba and 1974 AD, recorded new material for the project.
Recording mostly at the Kathmandu Jazz Conservatory's Kat/Jazz studios, Sánchez-Samper used the 788T's eight inputs to capture the overall sound of the groups on the album. In addition, he used the 788T's preamps and digital converter to route what he was recording into the line inputs of the console at the studio.
The flexibility and ease of use, along with the 788T's reliability, impressed him: 'The 788T is very user-friendly, has more features than you could ever imagine and its small size and incredible battery life is perfect for recording in the field,' he says . "Just the ability to be able to have output mixing is great. Four of the eight groups I recorded were done with the 788T in the field. It lived up to its specs and far exceeded my expectations.'
Much of the gear used for high-end studio or location recordings, including microphones and digital mixing boards, can be plugged directly into the compact recorder, reducing the complexity and duration of setup. The 788T's inputs accept mic or line-level signals as well as AES digital inputs; providing 48V of phantom power for condenser microphones, peak limiters for microphone inputs and fully adjustable high-pass filters. Adding to the simplicity of set-up is a back-panel multi-pin connector for a one-cable connection to a digital mixing board (AES input/output, power and switch closure in/out).
Routing allows each input to be assigned to left/right mixed tracks, isolated tracks or aux tracks. The 788T has several options for recording media, internal 160Gb SATA hard drive (256Gb SSD in the 788T-SSD), CompactFlash media with UDMA support, an external FireWire hard drive or DVD-RAM (with bus powering). Any or all of these can be used simultaneously.
In addition to the 788T, Sánchez-Samper used Sound Devices' USBPre 2 high-resolution, portable hardware interface for Mac- and Windows-based digital audio. The USBPre 2 is a flexible portable interface, connecting professional microphones, line-level sources, consumer audio electronics and SPDIF digital sources with Mac OS and Windows computers via USB. With its stand-alone mode, the USBPre 2 functions as a two-channel microphone preamplifier with analogue, digital and headphone outputs. A built-in high-resolution LED level meter helps further facilitate these types of applications.
'The USBPre 2 that I purchased prior to the trip proved invaluable,' adds Sánchez-Samper. 'I used it on every session in the Kathmandu Jazz Conservatory's Kat/Jazz recording studio, both as a stand-alone preamp and as an interface. The guitarist for 1974 AD liked it so much that he convinced me to sell it to him. I guess I will be purchasing another one soon.'
The Kathmandu Jazz Conservatory is a new centre for musical studies that opened in the fall of 2007 in the suburb of Lalitpur, just outside Kathmandu. The mandate of the Conservatory is to create a music environment where musicians can become knowledgeable in various musical subjects, be exposed to different music genres and, most importantly, where all musicians, from beginners to advanced, can receive a proper music education.
'This album is an opportunity for Nepali artists to further their careers in Nepal and abroad,' Sánchez-Samper says. 'I decided to name the album, Nepali Ho, after a song written 10 years ago by 1974 AD, which is considered to be Nepal's second unofficial anthem. A new version of the song appears on the album. A portion of the proceeds of the album will go towards a music scholarship fund to benefit students at the Kathmandu Jazz Conservatory.'
Nepali Ho is scheduled to be released on 22 November.
More: www.siganepal.com
More: www.sounddevices.com