Australian distributor and integrator Professional Audio Technology (PAT) has supplied and commissioned a Lawo Nova73 HD router and VSM control system to Global Television for its new HD4 OB truck.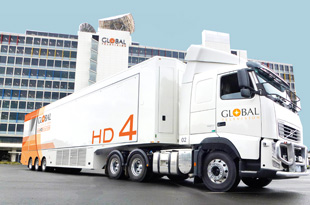 The router matrix system providea 8192x8192 crosspoints for multiple I/O formats including analogue, AES/EBU, Madi and ATM for the HD4 truck. A VSM control system was chosen to provide control for entire audio, vision and communication systems – main and redundant VSM server were installed along with an array of hardware, including Multi-Bus Panels with 17 RGB coloured LCD buttons, Multi-Bus Panels with 34 LCD buttons and some panels with 33 LCD buttons with incremental encoders, Comm Servers and GPIO panels.
'Global Television has continued with the proven integration between the Lawo Nova audio router and VSM router control matrix in our brand new HD Outside Broadcast trailer,' says Gobal Technical Service Manager, Milan Milenkovic. 'We find the flexibility of the VSM system allows us to easily configure and control the majority of equipment within our HD OB units, as a result we are able to quickly and reliably turn our trucks around between projects.'
Regarding Professional Audio Technology's services on this project Milenkovic notes: 'PAT has provided a very professional service and have been a pleasure to deal with.'
Professional Audio Technology provided programming and commissioning services and also training for the VSM system in cooperation with VSM Control from Germany and commissioning services for the HD core in cooperation with Kentetix Pty Ltd. 'This has been a very successful project for us and we are looking forward to being involved in future projects with Global Television,' adds Professional Audio Technology MD, Patrick Salloch.
More: www.proaudiotechnology.com.au
More: www.globaltv.com.au
More: www.vsm-control.com
More: www.lawo.de