Harman Professional has opened a Moscow office and completed a series of seminars in Russia and Ukraine, reaching nearly 400 professionals in the regions surrounding Moscow and Kiev.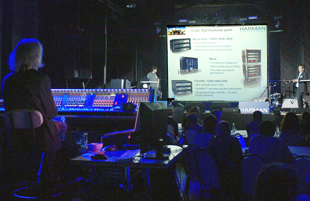 The October events are the first in a series of targeted, regional, international roadshows organised by Harman Professional's new Director of Knowledge Resources, David Scheirman, and were a common effort undertaken by Harman's new Moscow-based team headed by Evgeny Konov – Harman Country Manager Russia and CIS, the Harman Professional EMEA (Europe, Middle East, Africa) Sales Region technical team, and the company's associated distributors, A&T Trade (Russia) and Komora (Ukraine).
'Our channel partners around the globe are sophisticated business and technology leaders that very quickly grasp the potential of new technologies and concepts.,' Scheirman says. 'In staging these seminars, we had the opportunity to get into the details and explain both the technical attributes and field applications of our systems. We also received valuable feedback from the regional attendees. We're grateful to our partners for helping organise the events and especially to our audiences who made them such interactive, informative experiences.
In discussing the new Harman office in Moscow, Evgeny Konov articulated the professional division's plan to strengthen relations with its distributors in Russia and Ukraine by assisting in the development of vertical markets and providing marketing support and educational programs: 'Harman is a global industry leader in sound and communication technologies and we're determined to prove that we are also great listeners by getting increasingly close to our customers. We already have great products, great people, great channel partners and great momentum. Now with an office and dedicated staff here in Moscow, I expect that Russia and other members of the CIS will be a strong growth market for the future.'
'Russia and the entire CIS region is a growth market and because our systems are proven productivity tools in both channel and vertical markets – our message has a strong resonance there,' adds Michael MacDonald, Harman Professional Executive VP of Marketing & Sales. 'As audiences everywhere seek better quality, highly-integrated audio and video solutions for entertainment, communication and public safety, Harman systems are increasingly being selected to provide better sound, integration and overall lower cost of ownership. We look forward to working with the Russia and CIS audio and integration communities and joining with our partners to sustain growth in this market.'
More: www.harman.com