After opening 14 venues in quick succession – including two beach clubs as well as pubs and bars – the Kafe Pi Group is one of Turkey's fastest growing chains. Latest on the list is the Bronx Pi Stage, in the Beyoğlu district in the heart of Istanbul. At FOH is a DiGiCo SD8 digital mixing console.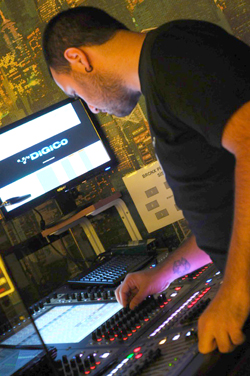 Attracting university students with events ranging from concept parties to board game tournaments, Bronx Pi appeals to avant-garde musical tastes. It has a young, dynamic crew and hosts groups from around the world – Jay Jay Johanson, Louie Austen, Parov Stelar Band, Kosheen, Klaus Waldecek, Belleruche, Client and national musicians including Redd, Yasemin Mori, Gece, Sakin, Kaçak among them. It also presents short film screenings, dance and visual performances, and theatre shows.
For the Bronx Pi Stage sound system, local distributor Elit chose the DiGiCo SD8 because 'it shows great efficiency both in performance and price and enables Bronx Pi to serve up good music six days a week, from world famous groups to amateur musicians'.
'Two years ago, Bronx Pi Stage was brought into the Kafe Pi Group's administration,' Bronx Pi Stage Tonmeister, Güneş Turaç elaborates. 'One of the biggest changes they made was in the technical production. I think Bronx Pi Stage owns one of the best sound systems in İstanbul now and DiGiCo is one of the main factors in this. It is a real pleasure to work at live music productions with an SD8.
'It has been easy to work with bands from all over the world (The Wedding Present, Redd, The Clientele, Sakin, Handsome Furs, Malt, Cem Adrian, Flunk, Archive, Onor Bumbum, Ünlü, İnfected Mushroom, Jay Jay Johanson, Multitap, Mirkelam - Kargo, Grizu, Vega…) as the SD8 provides exactly what is needed for every music genre and every band.
'Moreover, through productions I have worked at this summer such as Dutch gothic metal band Epica, Sonisphere Istanbul 2011 and Judas Priest and WhiteSnake's tour, I've witnessed just how successful the SD8 has become on a global basis, and how it is now truly an industry standard.'
More: www.digico.org