Located on Sydney's northern shore at Avalon Beach, Studio G is the home of musician Tommy 'G' Glancey. Having designed and built the facility Glancey recently refitted it, placing a 36-channel Audient ASP8024 console in front of the driver's seat.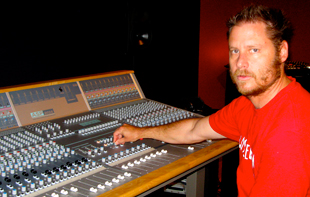 'I have always preferred to work with analogue gear but recently went digital (Radar) and still wanted a big analogue desk,' he explains. 'I had an old 20-channel Tascam desk but this was hindering my progress and had to go. I needed bigger and better and something that could work with digital. So, After much research I went for the Audient console rather than an old monster. From the word go, I have been really impressed with the desk.'
'Its ease-of-use, versatility, good looks and sound quality make it a joy to work with,' he says. This month he's been putting the console through its paces working on the fourth independent CD with his own band, Los Skeletone Blues, as '...test pilots for the new room and gear.
The console was supplied by Audient distributor Awave, based in Melbourne.
More: www.awave.com.au
More: www.audient.com