Professional Audio Technology has been appointed Australian exclusive distributor for Swedish microphone manufacturer, Pearl Mikrofonlaboratorium.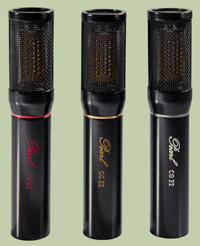 'Pearl has been manufacturing world-class microphones since 1941 and is celebrating 70 years in the professional audio market this year,' says Professional Audio Technology (PAT) MD, Patrick Salloch. 'The design and audio quality of Pearl microphones make them one of the world's best microphones brands, and we feel there is enormous synergy between Pearl products and the rest of the world-leading manufacturers we exclusively represent in Australia. We are delighted to have been chosen by such an esteemed manufacturer as Pearl and are looking forward to servicing the Australian market with this outstanding brand.'
Pearl's unique design and proprietary rectangular capsule have been refined and updated over the years. Pearl's rectangular capsule has less prominent resonances, giving a flatter frequency response. The design makes it one of the chosen microphone suppliers for the San Francisco Symphony, Stockholm Opera House and the new Opera House in Copenhagen among many more around the world.
'Professional Audio Technology is the perfect distribution partner for us in Australia, as it was imperative for Pearl to cooperate with a partner who is as passionate about audio quality and dedicated to outstanding customer service as we at Pearl are,' says Sven Olof Andersson, Chairman of Pearl Mikrofonlaboratorium. 'We are looking forward to a long and prosperous future between our companies and providing the Australian market with our world class microphones.'
More: www.proaudiotechnology.com.au
More: www.pearl.se