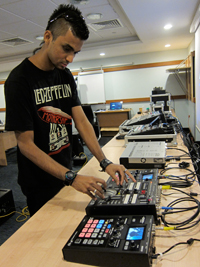 Roland Systems Group distributor Nicolas Kyvernitis Electronics Enterprises (NMK) recently hosted its third Middle East Roland Roadshow – taking it to Kuwait for the first time.
The event attracted professionals from round the region's the A/V industry, including installation companies, live sound rental firms and broadcast integrators. 'Kuwait is a completely new territory for NMK, so the Roland Roadshow was a great way to enter the market,' says NMK Roland Product Specialist, Moswain Antao 'Attendees to the event were very happy with the knowledge shared during the day and the opportunity to work with the latest equipment from Roland.'
Roland Systems Group (RSG) is part of the Roland Corporation, serving the professional audio and professional video markets since 2004. After releasing pro audio and video equipment under the Roland and Edirol, it consolidated under the RSG name with Middle East operations based in Barcelona, where RSG EMEA is headquartered.
More: www.nmkelectronics.com
More: www.roland.com/professional