Having put the Allen & Heath iLive digital mixing systems purchased earlier in 2011 into service on a series of events during the busy summer season, Jersey PA company, Stage 2 Productions is to extend its iLive inventory.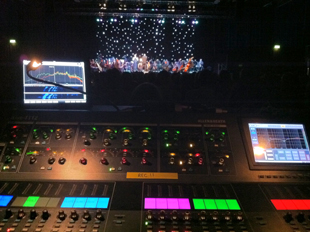 Stage 2 used iLive systems at both FOH and monitor for artists including Russell Watson, Leslie Garrett, Alfie Boe and a Motown show. The company also manages the production of annual Jersey festival Grassroots, where it used iLive systems exclusively throughout the site – iDR10, iDR-48 and iDR-32 MixRacks with iLive-176, iLive-T112 and iLive-R72 Control Surfaces – for Arrested Development, Easy Star All-stars, Ben Howard and Seasick Steve among others.
'Once again, iLive performed faultlessly and guest engineers very quickly got to grips with the logical and intuitive iLive operating system,' says Stage 2 MD, Rob Richie. 'The iPad app and laptop control via iLive editor on our Macs adds to the system's overall flexibility. I've been involved in concert and festival sound for longer than I care to remember. I don't know of another mixing system that performs so well, is so flexible yet still intuitive, and can be learnt so easily. I really like the whole iLive approach to digital mixing both in terms of the surface layout, and the fact that it is one system with many components that can be interchanged depending on the requirements. Swapping to a larger format iLive from a smaller member of the family needs no additional learning or understanding.'
Stage 2 will be specifying iLive at forthcoming events including Jersey Live, Alfie Boe, and FOH and monitors for a production of Joseph and the Amazing Technicolour Dreamcoat.
'I will definitely be increasing our iLive stock in the near future,' Richie concludes.
More: www.allen-heath.com