After promising to bring a new approach to the established live production technology trade show format, 2012's liveculture expo has run aground.
Stories published online by L&Si and Audio Pro International quote organiser Clive Morton in saying that both the cancellation of liveculture expo2012 – and that of the Guitar Nation show that was also to be run by Norgaard Media Limited – to be due to 'adverse trading conditions'. They also indicated severe financial problems in the preparation stages. Both stories appeared on 26 August.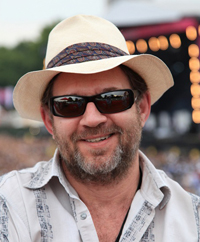 A statement soon to be released by the liveculture team gives an alternative account of the events leading up to the cancellations: After weeks of speculation, it is with regret that Mark Cunningham and Jay Green announce the cancellation of liveculture expo2012 and the associated liveculture awards2012, the live production industry events that were scheduled to be held at Wembley Stadium next April.
The cancellation is a direct result of a breakdown in the duo's business relationship with Clive Morton, MD of parent company Norgaard Media Limited, as Cunningham explains: 'Jay and I entered into this partnership in good faith and with enthusiasm. Unfortunately, we were seriously let down by the failure of basic financial obligations and negotiations held on our behalf with Wembley National Stadium Limited.'
The L&Si and Audio Pro International posts follow a story published in MI Pro magazine in June concerning Clive Morton's failed attempts to deliver his Guitar Nation show at Birmingham's NEC in May, and disputed claims against him and Music Nation which was liquidated in Spring 2011. The Guitar Nation show was later sold to Norgaard Media.
Cunningham describes this story as 'very worrying… both my name and the liveculture show were mentioned in the same report about legal tussles and unpaid invoices, and included the line "Morton Carries On Regardless". It painted a very unreliable picture and I feared being tarred with the wrong brush. It contributed to what was becoming an untenable situation for myself and Jay.'
The official statement continues: 'It has been both frustrating and depressing to experience what evolved as a blow-by-blow dismantling of the project, especially when the expo concept [originated and trademarked by Cunningham] was greeted with such positivity by a large portion of the industry, including people who have very cynical opinions of current exhibitions. They saw that we were dedicated to breathing new life into a tired promotion format and although our plans will remain dormant for the near future, Jay Green and I continue to believe wholeheartedly in the unique aspects of the event and will look at ways to resurrect it at some point in the future.
'For the moment, however, we are individually concentrating on generating personal income through diverse freelance work, and trying to forget the nightmare scenario that has passed.'
Cunningham – who resigned as editor-in-chief of TPi magazine in May 2011, more than 13 years after co-founding the title – added that Norgaard Media Limited remains wholly responsible for repayment of deposits and debts incurred: 'I would also like to make it known that Jay Green and I are not, and never were, connected with Mr Morton's other music-related exhibition, Guitar Nation, which we have learned is also cancelled.'
'Adverse trading conditions' are not the reason for the cancellation of the liveculture expo, and I want to make that absolutely clear,' Cunningham tells Fast-and-Wide. 'While I will agree that the market cannot sustain every exhibition in the way that organisers would like, we had tremendous feedback from the industry and would have been looking at a high number of secured bookings by the end of September.
'Companies who had abstained this year from major, established shows had already pledged to come onboard with us, and that was very encouraging. So much so that when we had no other viable option than to sever ties with Mr Morton in July. Jay and I did consider attempting to get things back on track but too much damage had been done by then for it to happen in 2012.
'We are still reeling but I can only say that, while ambitious, the formula we planned for the expo was something the majority of the industry still wants from exhibitions. If anything, we shook things up for a while and made some people think.
'We learned some very hard lessons over a short period of time. Next time, whenever that may be, we'll get it right.'