With establishments across the country, the DiMaggios Group is one of the leading UK restaurant chains. So when two of its restaurants required an audio refit recently, the sound was required to match the rest of the service.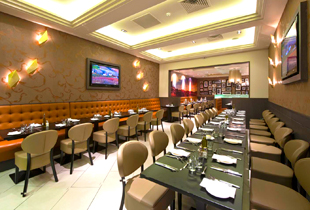 The man responsible for the installation of the Tannoy equipment chosen for the task was Bryce Keachie, audio consultant with Keachie Electronics, who has been involved in a number of projects with the restaurant chain. 'We do all of DiMaggios Group's audio, and have done for the past eight or nine years,' he says. 'The group own a chain of restaurants under different brands, and we have worked across a number of their establishments. When the project came up for Amarone in Edinburgh and Barolo Grill in Glasgow, we knew that we needed the most up to do date audio solutions available.'
The restaurants are set in different surroundings, and the architecture and interior design of each meant that Bryce had to deploy some different solutions across the two establishments. 'In all restaurants, it's always light background to medium foreground music, depending on what sort of events they might be having,' he says. 'In Barolo Grill, there is a private room, which should the client want they can provide their own music, and that is restricted to their own room. However, the architecture of both places meant we couldn't specify the same solution.'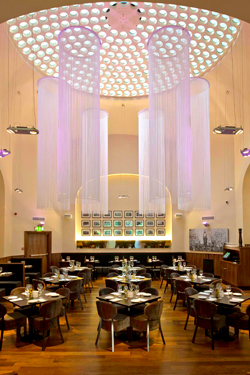 For Aramone in Edinburgh, this meant that Bryce had to specify a speaker that could be surface mounted, and that was economically viable. For this, he chose Tannoy's new DVS Series, which were specifically designed for a wide variety of discrete small-to-medium scale sound reinforcement applications: 'I had seen the DVS range and was very impressed with the new design. Not only did they have outstanding acoustic ability, but they are an ideal choice for value-engineered projects too.'
Their point-source driver design allows DVS Series speakers to be mounted vertically or horizontally without compromising the dispersion and coverage control – which gave Bryce more options when placing the units. He was then able to fully integrate the loudspeakers with the Camco amplification and Cloud z4 controller that was already part of the existing set up.
Over in Barolo Grill in Glasgow, the refurbishment meant that Bryce could look at an in-ceiling solution, and again specified Tannoy, this time going for the CVS Series: 'Tannoy's best-selling dedicated in-ceiling range, CVS Series, were an ideal choice as they were very aesthetically pleasing and also offered superior sonic ability within the space,' he says. 'In the end we used 16 CVS 6s and three CVS 4s, which gave us an ideal spread of coverage and flexibility.'
Again, the new loudspeakers were easily integrated with the existing Cloud z4 mixer and Cloud amplification set-up that was in place.
Now that the projects are finished and both restaurants open, diners are able to enjoy great acoustics as well as the great food offered by all DiMaggios' restaurants, and that is helped in some part, by the build quality behind Tannoy's loudspeaker ranges, as Bryce agrees: 'Where there's a demand for keeping control of costs without compromising in performance, the DVS and CVS Series provide a good set of options. For the price point, these loudspeakers meant that we could use a quality product that was fully reliable and built to last, and all within the budget set out by the client. The positive feedback we have had from DiMaggios is testament to the build quality of the Tannoy product ranges.'
More: www.tannoy.com