The Rotterdam branch of the SAE Institute has recently installed a new 36-channel Audient ASP8024 inline desk – the latest in a line of educational establishments to turn to Audient mixing consoles.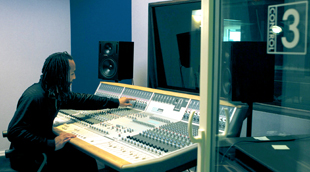 'The Audient integrates perfectly with our Pro Tools HD rig for flexible recording and mixing,' says Manager, Andreas Oszkiel. 'This upgrade ensures that we provide our students with up-to-date recording facilities, which not only reflect the industry standard in functionality and size with extremely versatile routing options, but also sound fantastic.
'The first project that will test the abilities of the Audient desk and the students will be the Fermi Paradox, a zero-budget sci-fi film shot and produced in Rotterdam,' he adds. 'Our students will be contributing sound editing, Foley recording and mixing to this project.'
SAE Institute Rotterdam has recently been accredited as a Degree Centre by Middlesex University, whose Accreditation Panel commended the faculty's academic excellence and dedication toward its students.
More: http://rotterdam.sae.edu/en-gb/home
More: www.audient.com