One of New York's popular tourist destinations, Our Lady of Victory National Shrine and Basilica receives nearly 2,000 visitors each month. While its 19th century French architecture is visually stunning, its vaulted ceilings and abundance of hard surfaces create acoustical challenges for audio engineers during religious services.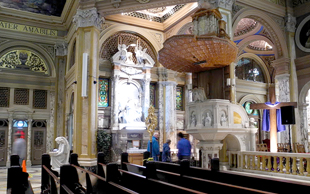 In an effort to eliminate as much reverberation as possible and increase speech intelligibility, Our Lady of Victory recently installed a Renkus-Heinz Iconyx digitally steerable line array system: 'We designed a pretty basic system primarily for vocal reinforcement in an extremely large reverberant space, says John Burckhalter, Pro Audio/Video Project Manager at Ronco Specialized Systems, who designed and installed the system. 'We chose the Iconyx series due to its digitally steerable line array characteristics and pattern control.'
The installation uses several Iconyx IC16 loudspeakers mounted on four marble columns flanking the main altar. Featuring audiophile-quality digital electronics and multichannel amplifiers, these provide highly directional sound that can be focused on the listener, minimising reverb caused by sound bouncing off hard surfaces. Iconyx also allows for the array's acoustic centre to be raised or lowered electronically which greatly improves high-frequency
performance with consistent broad horizontal dispersion. 'The Iconyx IC16's perform flawlessly and cover the required seating areas evenly,' Burckhalter reports.
Audio signal processing and input source mixing is provided by a Biamp Nexia CS processor with a Red-1 wall controller programmed to adjust volume levels. The Iconyx speaker processing is used for the main equalisation and delay set-up. For additional sound reinforcement, delayed JBL Control 25 speakers are mounted on columns located at the sides and rear of the church, all powered by Crown CT series amplifiers.
Installation of the IC16 system had minimal impact on the basilica's aesthetics. Iconyx enclosures are tall, slender and designed to flush mount and blend into almost any architectural environment. 'Our Lady of Victory was delighted with the sound quality and clarity of the new Iconyx system,' says Al Colucci, Ronco sales engineer for the basilica project. 'It has never sounded so clear and clean in the church. The new Renkus-Heinz speakers really live up to their claim.'
More: www.renkus-heinz.com
More: www.biamp.com
More: www.jblpro.com