Hangzhou's Dongpo Theatre stages nightly performances that serve both locals and visitors – Night of West Lake for tourists and the Gold Coast Entertainment Show for its citizens. Both productions sound better following the installation of a new loudspeaker system…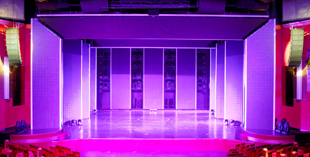 Regarded as a cultural and entertainment landmark, the Dongpo Theater is the largest of those operated by the Gold Coast Culture Development – better known as the Gold Coast Company. 'The Gold Coast Company operates more than 50 theatre productions at 14 theatres across China,' says Gold Coast Company Project Manager, Jie Han. 'The Gold Coast Entertainment Show is the most famous brand among Gold Coast Company's offerings and the production is presented year-round in each theatre.
'With a total audience of more than 5m people per year, this is a very important entertainment property, so it is crucial that our audiences be treated to the very best sound.'
Hangzhou Chuangda Stage Facilities, the DAS Audio dealer in Zhejiang Province, was called in to design and install the theatre's new sound system. With logistical assistance from DAS Audio's Hong Kong office, the Dongpo Theatre's new sound system was designed to include loudspeakers from the Aero Series 2 and Artec lines.
The main system comprises 16 DAS Audio Aero 12A powered mid-high line array elements flown eight cabinets per side. An additional four Aero 12A loudspeakers provide front fill, and four DAS LX-218A powered subwoofers are ground-stacked, two cabinets per side in an LR configuration for LF support. Twelve DAS Audio Artec 28 two-way enclosures handle surround throughout the theatre, while a DAS Audio DSP-4080 4-input/8-output signal processor handles loudspeaker management.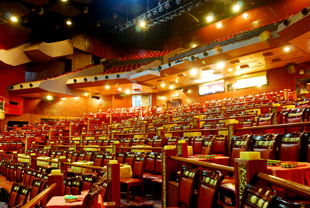 'The Performance Theatre industry in China is very active and relevant, and for DAS Audio to establish a collaboration with one of the leading companies in this sector is a milestone achievement for our speaker systems in this kind of application,' says DAS Audio Hong Kong Operations Manager, Eduardo Lopez.
'Our active, compact line arrays, which are easy to install and set up, do not detract from the grand appearance of the stage, yet they provide outstanding audio performance and represent a good option for this type of venue. The diversity of performances and music played in this theatre match perfectly with the variety of applications our line arrays support, so I am confident there is a good future for DAS Audio.'
Installation was completed in June and has proven successful: 'DAS Audio is a company that exhibits professionalism, honesty and integrity,' Han says. 'We appreciate their enthusiastic service and support and, of course, the high quality sound of the company's loudspeakers. I sincerely hope Gold Coast and DAS Audio will establish a reliable partnership and, together, further develop the Chinese entertainment market.'
More: www.dasaudio.com