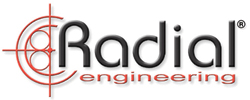 Radial Engineering has named Huahui Audio Technology as official distributor of Radial Pro Audio (including 500 Series) products for China. The announcement follows the recent appointment of Huahui to handle Point Source Audio microphones in China.
Established in 2003 and based in Beijing, Huahui Audio provides pro audio service including design, installation, debugging, technical training, consultation and sales, and training. Covered market segments include broadcast, theatres and concert halls from offices in Beijing, Guangzhou and Hong Kong.
'Huahui Audio has been increasing its market share in China and we are really pleased to have them represent Radial,' says Radial Engineering Sales Manager, Steve McKay It is an important market and opportunity and we believe our product line is in great hands.'
Radial Engineering is a leading manufacturer of products including direct boxes, the Workhorse 500 series rack and modules, a line of Reamp technology and acoustical treatment division Primacoustic.
More: www.hh-audio.com
More: www.radialeng.com