With a new studio album planned for release in 2012, Deep Purple recently completed the North American leg of an international tour complete with a 38-piece orchestra. It was the band's first appearance in North America for four years.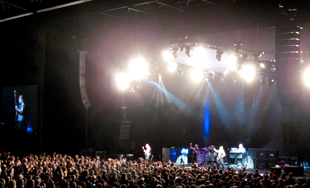 Revisiting the 1969 experiment that produced the Concerto for Group and Orchestra collaboration with British composer Sir Malcolm Arnold ('the first ever combination of rock music and a complete orchestra'), the tour features classic line-up members Ian Gillan (lead vocals), Roger Glover (bass) and Ian Paice (drums, percussion), with guitarist Steve Morse and keyboard master Don Airey. The tour marks the band's first time touring with a symphony orchestra in each of its city stops, and takes in theatres and open-air pavilions from Ontario, Canada to California.
Taking care of sound reinforcement, Thunder Audio called on a Meyer Sound Milo line array loudspeaker system. 'It's a very smooth system,' says FOH Engineer Gert Sanner. 'With Meyer, you get a very reliable result on a daily basis. I appreciate that; it's not something everybody has.'
The tour system comprised 20 Milo and four Milo 120 line array loudspeakers, 14 700-HP subwoofers, four Mica line array loudspeakers, and MJF-212A stage monitors. Meyer Sound's Galileo loudspeaker management system and SIM 3 audio analyser were also used. 'The performance was spectacular,' says Systems Engineer Erik Rogers. 'It met my expectations every day.'
Rogers explains that the 700-HP subwoofers, configured in two stacks of three per side in a top-bottom cardioid pattern, with the top boxes facing forward and the bottom backward, provided outstanding coverage and pattern control. 'The extra two subs were side fill when necessary, and occasionally centre cluster. Flexibility was the name of the game.'
Set-up efficiency was also critical: 'Especially when you have a large production and have to go into a small theatre, you want to spend as much time behind the desk working with the band as possible,' says Sanner. 'With SIM 3, you can rapidly collect PA system performance data, which makes setup a lot quicker. That is very much appreciated.'
In addition to the Deep Purple tour, Thunder Audio has recently supported a number of other artists using Meyer Sound systems, including The White Stripes, Robert Plant, Dolly Parton, Metallica, Slipknot, and Diana Ross.
Having begun in Europe, the Deep Purple tour will arrive in the UK later in the year – complete with orchestra.
More: www.thunderaudioinc.com
More: www.meyersound.com