On Friday it was Underage, on Saturday it was Field Day and the on Sunday it was Apple Cart. Three UK quick-fire festivals on the same site…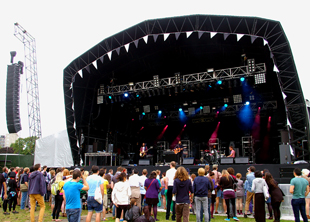 To take care of the sound, Capital Sound Hire returned to Hackney's Victoria Park with the same Martin Audio Multi-cellular Loudspeaker Array (MLA) system it had fielded for the LED Festival a few weeks earlier – working alongside event management company Loud Sound and production company LarMac Live.
Bordered by trees, a canal and high-tariff residential properties, the popular festival site called in environmental acoustics experts Vanguardia to ensure the sound did not bleed beyond its perimeter. Capital Sound crew chief Nick Foots, supported by Martin Audio Development Manager Phil Anthony, set presets that would comfortably ensure this, while being able to retain a threshold of 98dB-100dB (Leq) measured over a 15-minute period.
Although main stage was not in use on the Friday, the MLA served the star-studded Saturday (Field Day) and Sunday (Apple Cart) events. Emulating the rig design for the LED event, main hangs of 16 MLA and one MLD down fill enclosures per side were complemented by 15 front-facing MLX subs and seven rear-facing in a combined broadside/cardioid array. These were delay curved to provide a horizontal dispersion of 110° to cover the entire field.
Martin Audio W8LC Compact Line Array elements provided the out fill and a delay position 60m back, while two further hangs were flown on the Friday night in the 6,000-capacity second tent, which became the main showcase arena for Underage.
As a result, Capital Sound GM, Paul Timmins, says his company had learnt a lot more about the system performance outside during their summer evaluation: 'Taking it into Victoria Park has been extremely useful and we have been able to give audiences a different experience. Event Manager Dan Craig said the MLA sounded fantastic, and that the situation with both the offsite noise and levels at FOH were exactly as they wanted. Most productions working there in the past have struggled to meet offsite criteria.'
'A number of MLA filter optimisations were done to cover from 65m-100m, so we had settings that would allow Nick to dial in where he wanted coverage to stop,' says Martin Audio Development Manager Phil Anthony. 'We ended up with a coverage depth of about 85m in conjunction with exceptionally consistent SPL and frequency response.'
Anthony could have set an even sharper cut-off at the perimeter had it been needed and claims that the MLA performed way beyond its IP rating: 'While the arrays were waiting to be rigged, some of the cabinets' amplifier modules filled with water during a cloudburst – but we emptied it out and the system fired up straight away.'
Production Manager, LarMac Live's Ian Greenway, and Nick Foots, also registered their satisfaction.Foots spent much of his time babysitting at FOH and inducting sound engineers eager to try out the system which has become the talk of the industry. 'Many were curious to hear it for the first time,' he says.
Among those present was Huw Richards, mixing Steve Mason, who had system teched both the last two years' iTunes Festivals at the Roundhouse (where MLA was used) and was now delighted to be able to hear the system operating outside, while both the engineers for John Cale and Patrick Wolf were also complimentary.
Foots took the opportunity on Sunday morning to experiment with some of the presets to check the levels of attenuation further down the field: 'Vanguardia seemed really satisfied with the system,' he summarized. 'It's just what you want from a PA – happy engineers, a really stable system and a great sound.'
And Paul Timmins reflects: 'We have used MLA on the appropriate projects this summer, both inside and out – including Whitesnake – and have received some excellent feedback; so we're extremely happy.'
More: www.martin-audio.com