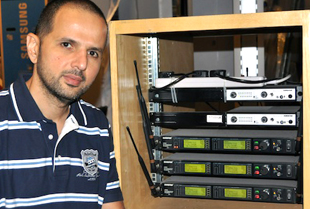 Following the recent take-up of a Shure UHF-R wireless system by Dubai-based A/V rental company Mediakraft, Nicolas Kyvernitis Electronics Enterprises reports another placement with UAE broadcaster MBC.
NMK – distributor of Shure microphones and audio equipment in the UAE, Bahrain, Qatar and Oman – supplied MBC with 18 channels of Shure's UHF-R mic system, including UR1H bodypack transmitters the dual-channel receivers.
'MBC has been using the Shure UHF Premium series for many years now,' says NMK Shure Product Manager, Shajahan KK 'After demonstrating the new features and benefits of the UHF-R, it was common sense for them to consider the new wireless system.'
The UR1H High-Power Bodypack Transmitter features a 250mW output for robust RF signal strength and extended transmission range, and uses batteries or external power for intelligent and cost-efficient power usage.
More: www.nmkelectronics.com