Canford has clocked up its million order when it received an urgent call from Northern Light. Key Accounts Manager Erika Dobie jumped in the car and headed north to deliver – and to present a bottle of Champagne to mark the occasion of the order in Canford's 35th anniversary year.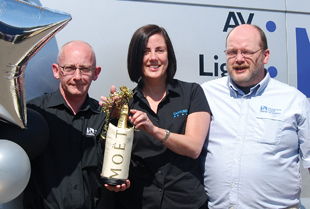 Based in Edinburgh, Northern Light needed a number of BNC connectors for the Watford Colloseum Theatre, which is almost ready to reopen after a £5.5m refurbishment.
'The order for 60 Telegartner BNC connectors is not of a hugely significant size in itself but it is does mark a significant point in the evolution of Canford,' says Dobie. 'It is also indicative of how small orders are still just as important to us even today, and that we genuinely attempt to deliver as much customer satisfaction for a smaller order like this as for the larger ones. This order was delivered the next day to Northern Light's Project Manager actually on site and pretty much sums up that whole ethos.'
Northern Light is a longstanding Canford customer and both companies have worked together closely for a number of years. Canford has been able to support Northern Light on numerous major multi-million pound A/V installation projects including the Grand Opera House in Belfast, The Sage Gateshead, the Usher Hall in Edinburgh and Kings Place in London.
'When I placed the order I had no idea it was number one million,' says Mark Feeney of Northern Light. 'I just knew Canford would have stock and deliver it the next day for me. It was an unexpected treat to receive the Champagne and I will be wishing Canford a happy 35th birthday while I am having a glass or two.'
The Watford Colloseum Theatre is renowned for the its acoustics and was the location for the soundtrack recordings for The Lord of the Rings, the Star Wars trilogy and The Sound of Music. The grand reopening will take place in August 2011.
More: www.canford.co.uk
More: www.northernlight.co.uk