Sound company King Sound Reinforcement has served the Southwest UK for more than 12 years, building a reputation through its choice of equipment, staff and service. In keeping with its policy of continual investment, King Sound has taken 12 APG SMX15 monitor speakers from UK distributor Red Square Audio.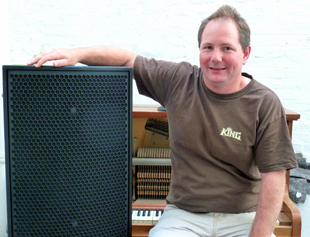 'King Sound has a reputation for never following the crowd when it comes to speakers systems – our only criterion is to buy the very best product for the job,' says company owner, Paul King. 'I can honestly say that after exhaustive testing over a nine-month period of many premium monitor options, the APG SMX15s came out as the clear winner.'
The investment gives King Sound one of the UK's first significant SMX15 inventories. 'Sonically they are excellent,' King continues. 'The multi-position rigging bar gives us a five-angle wedge or infill and the pole mount enables their use as a small FOH box when needed. This, coupled with several flying options, gives us a very versatile box indeed.
'As a busy rental company, we need speaker systems that are adaptable, reliable and, of course of the highest sonic quality. The SMX15s tick every box. Special mention must be made of Paul Nicholson from Red Square Audio who provided us with excellent service and the APG guys for support in editing the DSP presets to suit our needs.'
'King Sound is a perfect partner for us,' says Red Square Audio's Paul Nicholson. 'As a company, they are completely open-minded and willing to stake their reputation on what they specify to their clients. They only want to use systems that deliver the highest quality audio and not follow predictable brand trends. It was a real pleasure to work with Paul and see his enthusiasm, not just for the multipurpose SMX15, but for the APG philosophy as a whole. I am certain that their choice of the SMX15 will give them a real advantage in the market once their clients have had a chance to use them, and I'm looking forward to working with Paul again in the near future.'
More: http://redsquareaudio.co.uk
More: www.apg.tm.fr