Dealers and customers were treated to a fashion show with a difference at the recent John Deere 2011 new product launch which was held in the majestic setting of 17th century Thrumpton Hall, outside Nottingham.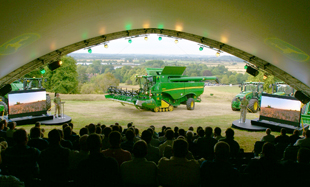 Newark-based events and exhibitions specialist, OneBigStar provided the production and design services for the show, which took place in a large saddle span tent in the grounds of the stately home. With the models coming in at up to 16 tonnes and 4m wide, the event, entitled Setting Directions required a fair amount of space – and some innovative production.
Guests wer seated in a 250-capacity auditorium inside the tent to view technical product presentations on multiple screens given by John Deere staff, while the new products paraded (or in most cases were driven) past. This was followed by an opportunity for a close-up inspection of the machinery and technology in a separate exhibition tent.
OneBigStar chose to use a Roland VR-5 A/V Mixer and Recorder as FOH to take care of all the A/V – two screens, four radio mics, live presentations and live recording. Designed to simplify the production, recording and streaming of any live event, the VR-5 incorporates a video switcher, audio mixer, video playback, recorder, preview monitors and output for web streaming all in a single unit. The reduction in hardware equipment, set-up time and connection made the VR-5 an obvious choice.
'The VR-5 did everything that was required of it and had all the features we needed for the event,' says Simon Taylor of OneBigStar. 'This fab new vision/audio mixer and recorder took care of all A/V inputs and outputs and along with our Dak P10SMD screens, gave the event a truly high-end production finish.'
OneBigStar connected a laptop to the VR-5 with the presentation content, including embedded video and PowerPoint, pre-loaded. A live feed from the stage area was provided by a camera which could then be recorded to SD memory card. The event also had the option of being streamed live to the internet by connecting a PC via USB and linking to a live streaming service. The User Logo feature on the VR-5 allowed the engineer to display a stored image such as the company logo, show name or conference title and in this case was used to display the John Deere logo between presentations. With built-in dual touch screen preview and programme monitors, the VR-5 makes it easy to switch between video sources and simple for one person to operate.
More: www.roland.com