With the better part of a decade as FOH engineer for Muse, as well as time spent with The Cure and Snow Patrol, Marc Carolan knows his mics. And for Mat Bellamy's guitar cabinet, his microphone of choice is the R-122 Live Active Ribbon from Royer Labs.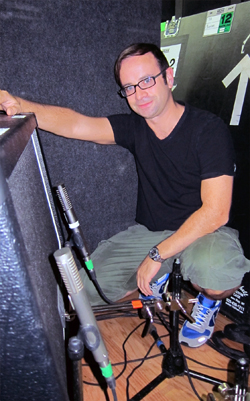 'Between myself, [monitor engineer] Adam Taylor and [guitar tech] Jason Baskin, we came up with an optimum placement of about 4-inch from the cone and about 2-inch off-centre. While his cabinet produces extreme SPLs, it also delivers a wide range of tones and feels. The R-122 Live is the only mic that can handle all of this. I like the fact that there's no high-end boost. The R-122 Live remains true to delivering the tonality Matt is trying to achieve. All the complexity of Matt's sound ends up being reproduced by that one mic – and it sounds massive.'
Presently, Carolan has two R-122 Live ribbon microphones, with one mic dedicated to Bellamy's guitar sound and the other as a back-up.
When he's not on tour, Carolan is involved in a variety of studio projects. 'When using the R-122 Live in the studio, I find myself experimenting with microphone positions,' he says. 'The fig-8 polar pattern and the nulls that are an integral part of the mic's sonic signature provide tremendous flexibility. The amount of isolation from other sound sources that these mics can achieve with careful positioning is really impressive.'
'Obviously, its sound is the most important aspect of the microphone,' he continues. 'The R-122 Live doesn't try to impose a character of its own on the source. Rather, the mic reproduces the source in a very satisfying manner – especially when things get loud. Its response means the ear is not assaulted with any hi-end nastiness.'
In addition to R-122 Live, Carolan recently began working with a pair of Royer Labs R-101 passive ribbon mics. I'm still experimenting with them but, so far, they have proven to be very versatile microphones. I see a lot of possibilities for the R-101,' he says.
More: www.royerlabs.com