Several of Germany's summer open-air festivals have seen rental company satis&fy Werne putting its flagship L-Acoustics K1/Kudo WST line source system to good use.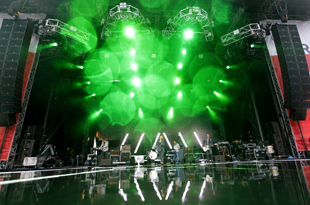 In early June, satis&fy rocked not only the Ring, but also the Park during the simultaneous German festivals. The company provided 24 K1s, eight K1-SB subs, 12 Kudos, 16 Kivas and 40 SB28 subs for Rock am Ring, with a delay system of 64 V-Dosc elements for the audience at the back of the festival grounds. At the Rock im Park festival, satis&fy used 24 K1s and eight K1-SB subs, as well as 24 Kudos in side-hang clusters and 12 Kivas for close fill, with 40 SB28 subs enhancing the main PA's low-end. Here, the delay towers were equipped with V-Dosc, dV-Dosc and Kudo enclosures.
satis&fy Werne also provided the sound reinforcement system in the Hessentagsarena for the Hessian state fair held at Oberursel. Again featuring K1/Kudo rig, this system comprised 24 K1s, eight K1-SB subs, 18 Kudos as side-hang clusters, eight Arcs for close fill, 32 SB28 and subs, with 24 V-Dosc cabinets for the delay line. The company was also on hand at the Meyer shipyard for the Papenburger Festival hosted by radio broadcaster NDR 2, again providing a K1/Kudo rig to deliver an impressive audio experience.
'The L'Acoustics K1 system makes it so easy to deal with the acoustic challenges of festivals and open-air events such as the size of most festival grounds, the great distance between PA towers and the musical diversity of acts,' says Arnd Wagner, satis&fy Werne's Audio Support Engineer. 'We can even cover very long-throw distances and deliver excellent quality with no signal degradation. What's more, the K1/Kudo system is a real plug-and-play application that handles so conveniently and fits in with every set. The high-end sound at the festivals was unsurpassed, and audiences were elated.'
More: www.satis-fy.com
More: www.l-acoustics.com